Join us to glean insight and perspective from Stephen Alden's rich experience in luxury hospitality leadership!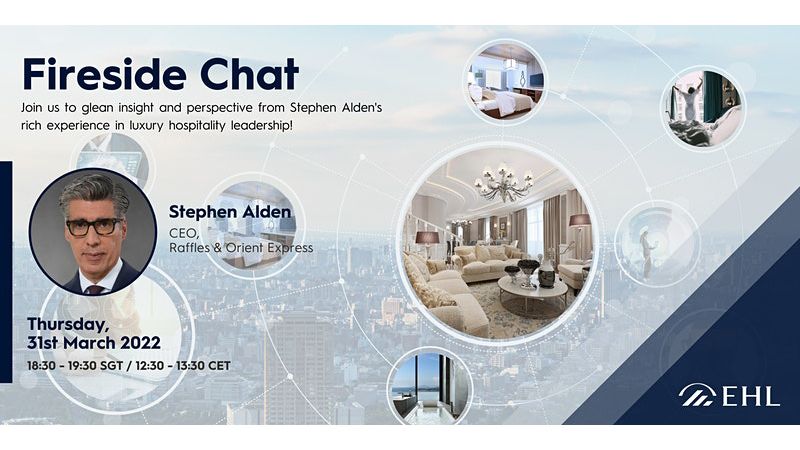 Stephen is known as a visionary hotelier, a strong leader and a successful builder of international luxury hotel brands. With Starwood, he opened the St Regis in New York and led the St Regis and LuxuryCollection brands globally. He was CEO for nine years of Maybourne Hotel Group, whose flagship properties include Claridge's, TheConnaught and The Berkeley. In 2016 he was appointed CEO of TheSET, owner and operator of London's Hotel Cafe Royal, The Conservatorium in Amsterdam and the Lutetia in Paris. Stephen has served on the boards of Walpole British Luxury (London)and London First as well as Ferragamo's Lungarno Collection(Florence). He was awarded an honorary title in 2002 as "Console di Roma" for the renovation of the César Ritz Grand hotel, completed in time for the Giubileo 2000 celebrations.
Join us in conversation with Stephen Alden as he will be sharing insights and perspective from his decades of experience in luxury hospitality leadership on the 31st of March. Some topics will include:
- The evolution of the Raffles Hotels
- The conceptualization of the Orient Express
- The positioning of the Raffles and Orient Express brands within the Accor ecosystem
- Incorporating Sustainability in Luxury
Join us onsite and online from 6:30-7:30pm (SGT) / 12:30-1:30pm (CET)
Do take note that:
- Classroom LSN M115 is booked for those on EHL Campus (Lausanne).
- Due to capacity restrictions, onsite attendance at EHL Campus (Singapore) is currently reserved for Students, Staff/Faculty, and Alumni.
Onsite participants can enjoy a reception after the talk with light bites and the Singapore Sling from the famous Long Bar at Raffles Hotel Singapore!
Register now to secure your seat!
Register here: https://www.eventbrite.sg/e/fireside-chat-with-stephen-alden-ceo-raffles-and-orient-express-registration-304411762777