Join the France-Singapore Sustainable Finance Conference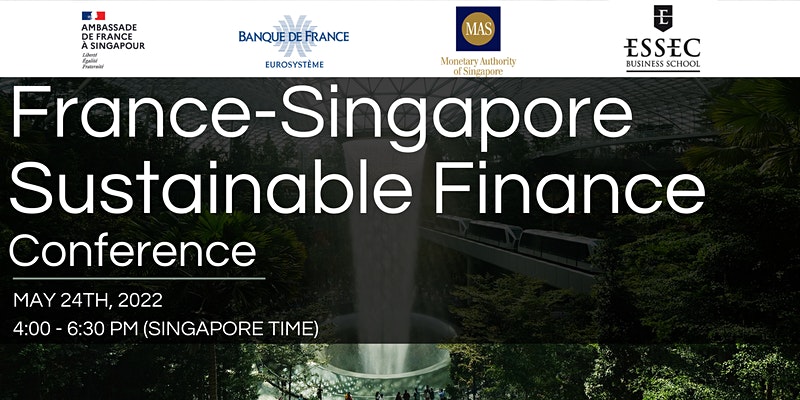 The Embassy of France to Singapore, the Banque de France, the Monetary Authority of Singapore, and ESSEC Business School APAC are pleased to invite you to the France-Singapore Sustainable Finance Conference
Over the recent years, greening finance has become a central issue in order to boost the transition towards low-carbon and climate-resilient economies. It is now obvious that green financial tools will be key through the rallying of private and financial sectors if we want to achieve the Paris Agreement goals by taking the measure of climate-related risks and opportunities.
Singapore is one of the largest financial centers in Asia and the world and its green and sustainable agenda has accelerated substantially over the last years with the ambition to becoming both a green finance and a fintech hub for the whole region. Many steps have been taken these last months to turn this ambition into reality through the Green Finance Action Plan, the Green and Sustainability-Linked Loan Grant Scheme, the work initiated on taxonomy within the Green Finance Industry Taskforce, or more recently the launch of the Climate Impact X project by SGX and the Greenprint project.
France has been at the forefront of the development of green finance in Europe from both a public policy and a private sector perspective. France became the first country in the world to issue a sovereign green benchmark bond in 2017, the Green OAT (1.75% 25 June 2039) for an amount of €7bn, and was one of the first countries committing to strengthen climate disclosure requirements for financial institutions and non-financial corporations, bringing full support to the recommendations of the Financial Stability Board Task Force on Climate-related Financial Disclosures. With the support and guidance of Banque de France and the ACPR, the role of the French financial actors remains key in this journey, whether they are asset owners and managers or banks.
In this context and after Singapore and France have signed a Digital and Green Partnership in March 2022, it seems particularly relevant to exchange on our experiences and best practices from both a business-oriented and a public policy perspective and to tackle the technical aspects entailed by making finance a greener world. Public and private stakeholders from Singapore and France today clearly walk in the same direction, but from a different starting point, and an ambitious event in terms of content and quality of the panels should help showcase what financial actors can bring to the table in order to help foster the green transition.
------
Agenda
16:00 Opening Remarks by Aarti Ramaswami, Deputy Dean ESSEC Business School APAC
16:05 Pre-recorded Fireside chat between MAS' Managing Director Ravi Menon and Banque De France Governor François Villeroy de Galhau
16:30 Panel 1: Impact on biodiversity on the economy and financial sector, and role of nature-based solutions, moderated by Natixis (CIX, Quant Cube, Amundi, Temasek)
17:10 Panel 2: Enabling sustainable finance through Green FinTech, moderated by SG-CIB (Finance For Tomorrow, MAS, CACIB, Hashtacs)
17:50 Panel 3: How to leverage on regulation and incentives to foster the green transition of the financial industry and the economy, moderated by ESSEC (DBS, Banque de France, BNPP, Engie)
18:30 Closing remarks by HE Marc Abensour, Ambassador of France to Singapore