After 2 years, we are glad to announce the 2022 edition of the French Chamber Petanque Tournament on Saturday October 15th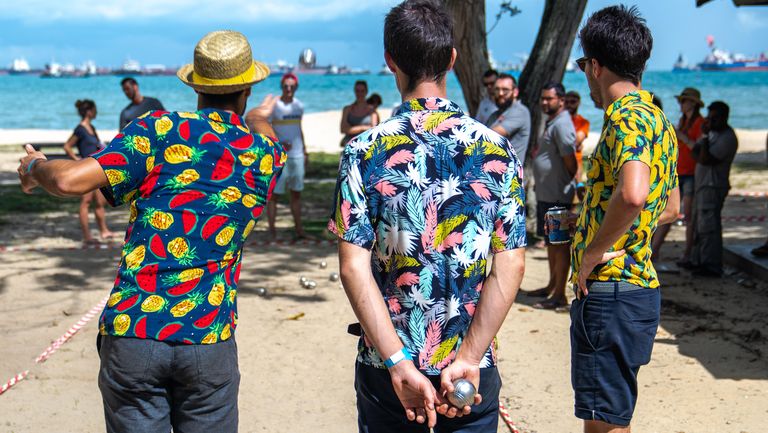 Petanque, which attracts both young and old, is a game where metallic balls must be thrown as close as possible to a small wooden ball called a cochonnet.
Everybody is welcome to enjoy this fun, typically French game: bring along partners, clients and friends for a sunny day outdoors, with a beautiful sea view!
Each team, called a triplette, consists of 3 participants so you'll have to register online as a team of 3 (at least one of them has to be part of the company).
40 teams in total will get to compete!
Please note that the registration is LIMITED TO MAXIMUM 1 team per company (except for main Sponsors).
*** ONE REGISTRATION PER TEAM PLEASE ***
This event is organized in collaboration with OGS
Participation Fees
French Chamber Members' only: S$270/triplette (S$90 per player) Includes Registration Fees, Drinks & Lunch.
Rules
-Petanque balls will be provided.
-A triplette is a team of 3 players.
-The goal is to throw hollow metal balls as close as possible to a small wooden ball called a 'cochonnet' while standing inside a starting circle with both feet on the ground. The game will be played on sand.

First round (morning): you will play within a group of 4 teams - The ranking will be determined as follows:
Number of games won
Point difference
Number of point scored
winner of the game between the 2 equal team
Second round until the Final (afternoon): direct elimination
Schedule
| | |
| --- | --- |
| 09:00 - 09:30 | Registrations (first matches will start as soon as teams are ready) |
| 09:30 - 11:30 | First round (morning): pool of 4 teams |
| 11:30 - 12:15 | "Aperitif" |
| 12:15 - 14:00 | Lunch |
| 14:00 - 18:00 | Second half of Tournament |
Contact
For more information, please contact Coralie at cvincens(@)fccsingapore.com
Terms & Conditions
Please note that photographs and videos may be taken during the event for news and publicity purposes.
Registrations is on a First come, first served basis.
No refund if cancelled within 7 days prior to the event.
Shall it rains heavily, we would postpone the event ( no refund )