Celebrate International Women's Day on March 8 with us online with distinguished speakers about Women in Leadership.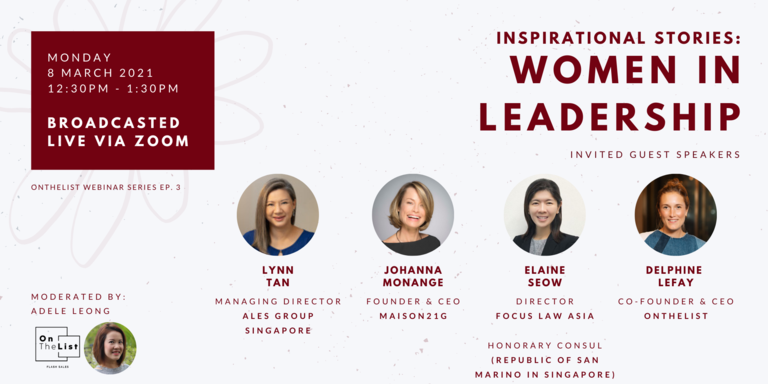 An initiative by OnTheList, this webinar series aims to provide a conversational platform for thought-leaders to voice their concerns, and share ideas and insights as to how various stakeholders can collaborate, educate and improve women's role in leadership.
For this episode, we'll be touching on the topic of women in leadership:
Journey to leadership -> Sharing personal stories of their career advancements
Barriers for women in leadership roles -> How did your organisation embrace gender diversity, how did this aid in your career path?
Impact of gender -> How much has the distribution of roles and decision-making power really evolved since?
Advice for future generations -> What's a leadership lesson that you've learnt that's unique to being a female leader?
About the speakers:
Lynn Tan, Managing Director, Ales Group Singapore
At the age of 23, Lynn started her own business, Fusion Cosmetics Pte Ltd, with a loan of S$50,000 from her uncle. From a one-person company, she grew the business to 80 staff and over S$15 million annual turnover in less than 10 years. Lynn is a member and a past Chapter President of the Entrepreneur's Organisation (EO) Singapore Chapter where she joined in 2010. Through EO she found an integral part of her life from the strong support network and like-minded individuals. To motivate and share her experience and knowledge as an Entrepreneur, Lynn is a trained facilitator at EO where she trains new members who join the organization on Forum Training. In addition, she is also a trained facilitator for Strategic Summits.
Johanna Monange, Founder & CEO, Maison21G
With over 20 years of experience in perfumery, and working with various fragrance powerhouses such as Firmenich and IFF, she aims to revolutionise the traditional perfumery world to the growing tech market in order to make creativity, education and haute quality in perfumery more accessible to all. Her ultimate goal is to empower every single individual to design their own scent to feel more confident, unique and seductive in their life with a unique online and offline model. Stepping out of the corporate world, she set up Maison21G to allow everyone to be able to create their own perfume, bringing the scent creation directly and easily to the consumer. Maison21G's first flagship store is open in Singapore (Duxton and ION) and Sydney, and will be moving swiftly to Paris, Korea, Hong Kong and China by 2021.
Elaine Seow, Director, Focus Law Asia LLP
Elaine Seow is a homegrown Singapore lawyer, who has been in practice over the last 20 years advising MNCs, SMEs and start ups on basic Singapore law related issues, such as setting up companies, employment law, drafting of commercial documents, shareholders agreement, mergers and acquisition deals, and has a special interest advising on the food and beverage, and medical industry. She is a Notary Public, Commissioner for Oaths, and an Honorary Consul of the Republic of San Marino to Singapore.
Delphine Lefay, Co-founder & CEO, OnTheList
French entrepreneur Delphine Lefay, one half of the husband-and-wife duo of OnTheList, is the brainchild behind the Members-Only Flash Sales concept which offers members exclusive access to luxury brands at discounted prices, for a limited time. Together with co-founder Diego, she oversees the company's business operations while leading the strategic development of OnTheList's brand partnerships. Prior to co-founding OnTheList, Delphine was the International Sales Development Manager at French fashion label FAGUO, before moving to Hong Kong in 2015 and assuming the role of Asian Sales Manager at Groupe Eram. Today, she is unequivocally well-versed in the fashion retail scene having worked with a vast portfolio of brands in Asia Pacific and Europe in marketing, sales and business development. Delphine has a Master's in Marketing from the University of Québec and a Master's in Luxury Management in Europe and Asia from Paris Dauphine University. In her free time, Delphine enjoys horse riding, hiking and yoga. She also loves traveling.
Moderator: Adele Leong, Managing Director of South-east Asia and Australia, OnTheList
Adele is a seasoned luxury retail veteran whose adept leadership and clarity of vision has helped propel brands forward, and drive a renewed focus on strategic retail value creation for continued business growth and success in the global market. At OnTheList, she leads the development and execution of key initiatives to support the company's growth in Singapore and expansion into Southeast Asia and Australia.