Ask yourself the right questions and benefit from guidelines that will help you start your digital marketing strategy in the right direction.
A digital marketing strategy will help grow your business in 2022. Plan better for next year right now and get started with a great online presence, especially during this period of restricted live practices!
And if you have one already, you should take a step back and review it, to make sure that it is still aligned with your business and messaging.
During this session, based on the questions from the participants, we will discuss what digital marketing is all about - website and eCommerce, social media, content, planning, digital tools, systems and processes - from understanding to implementing an online strategy in the long run.
About the Speaker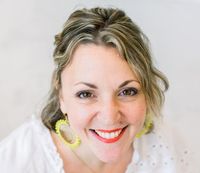 Marie NADAL SHARMA
Marie is the Founder and Director of Them You & Me, a digital marketing agency speaking friendly digital. With her team, she specializes in Digital Marketing Strategy, 1:1 Coaching, Website Design (static and eCommerce), Content and SEO.
Marie is a passionate founder, digital encourager and dedicated change-maker. She takes a nurturing approach towards the digital space, encouraging empathy, respect and kindness in all her communications and connections. Her creative streak, zest for life and genuine caring give her a unique approach towards problem-solving in the digital landscape. She recognizes that no one solution fits all and is dedicated to creating a unique strategy for each client.
When away from the screen, Marie is planning her next adventure as an avid and accomplished globetrotter. A keen shutterbug, gourmet foodie, design aficionado, an enthusiastic salsa dancer, and a disciplined boxer, she believes life as a business owner is a roller coaster – nothing that a pair of yellow earrings and coral lipstick cannot fix! And if you challenge her to Money Heist trivia, she will win, hands down. You can stop and say 'bonjour' at marienadal@themyouandme.com or connect with her on Instagram and LinkedIn.
Terms & Conditions:
This event is open to members only.
Full payment is required upon registration. Once paid, registration fees are non-refundable.
The Zoom link will be sent a day prior to the event.
Please note that photographs may be taken during the event for news and publicity purposes.
For more information, please contact Amelie Poumaer: apoumaer(@)fccsingapore.com