The French Chamber is organising the next session of 'Meet the CEO', a great opportunity for Entrepreneurs & SMEs to connect with MNCs.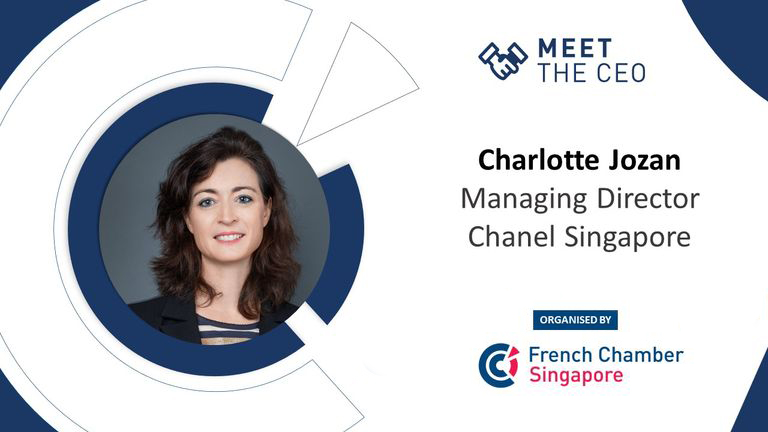 A survey conducted to the members reveals that business matching with large companies is a top priority for French start-ups and entrepreneurs.
'Meet with a CEO' is a initiative organised in collaboration with one of the top executives or highest level corporate positions of a large company, in various industries.
This session will be with Charlotte Jozan, Managing Director at CHANEL Singapore. She will be available for a 3-hour programme of 30-minute 1-to-1 meetings with 6 start-ups & SMEs selected.
- Registration shall be done by latest on the 19th January
- Selected companies will be informed by latest on the 21th January
About Charlotte Jozan
Charlotte Jozan is Managing Director for Chanel Pte Ltd, responsible for Singapore, Indonesia and the Philippines.
Prior to her Managing Director role in Singapore, Charlotte held different leadership positions from corporate support functions to business development roles.
Leading the Fashion unit in China over four years (2016-2020) as General Manager, Charlotte had to drive the team's capabilities and organization transformation, build the Brand and the business, and develop the boutiques' distribution network.
Prior to her General Manager role in Fashion, Charlotte served as the Head of Strategic Planning for China, co-designing and implementing the strategies and key projects for the market, as well as in roles in Finance/ business analysis and strategy, in China, in Europe and at the global headquarters, since joining Chanel in 2003.
Terms & Conditions
- For Entrepreneur members and SME members only
- Up to 6 meetings are available. The companies will be selected by the company.
Event Location