The French Chamber is organising the next session of 'Meet the CEO', a great opportunity for Entrepreneurs & SMEs to connect with MNCs.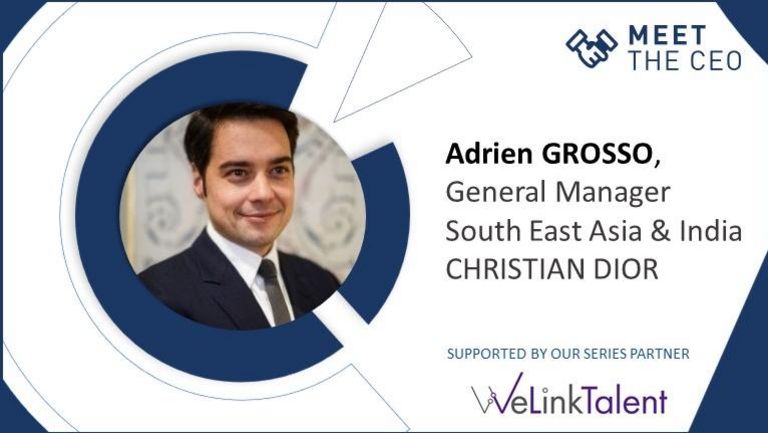 A survey conducted to the members reveals that business matching with large companies is a top priority for French start-ups and entrepreneurs.
'Meet with a CEO' is a monthly initiative organised in collaboration with one of the top executives or highest level corporate positions of a large company, in various industries.
This session will be with Adrien GROSSO, General Manager South East Asia & India at CHRISTIAN DIOR. He will be available for a 3-hour programme of 30-minute 1-to-1 meetings with 6 start-ups & SMEs selected according to his business relevance.
- Registration shall be done by latest on the 27th November -
- Selected companies will be informed by latest on the 30th November -
About Adrien Grosso
Adrien GROSSO is General Manager SEA & India for Christian Dior Couture and leading the Company Retail Performance Department for APAC. Over the past 13 years, he has held positions in the UK, in HK & Macau, and most recently relocated to Singapore. Passionate about retail and its human component, Adrien became expert in the areas of Stores Management, Operational Marketing, CRM, Retail Performance as well as its Leasing dimension. These areas of expertise ultimately serve the purpose of Brand desirability and market shares gain. Adrien is driven and inspired by the development of his teams to their full potential, often opting for direct, transparent and unformal communication. Married and Father of two, he is a regular football player and enjoys hosting dinners in the comfort of his home.
Terms & Conditions
- For Entrepreneur members and SME members only
- Up to 6 meetings are available. The companies will be selected by the company.