Once Upon A Like, is an exciting new musical based on the timeless Cinderella story made for the modern social media generation.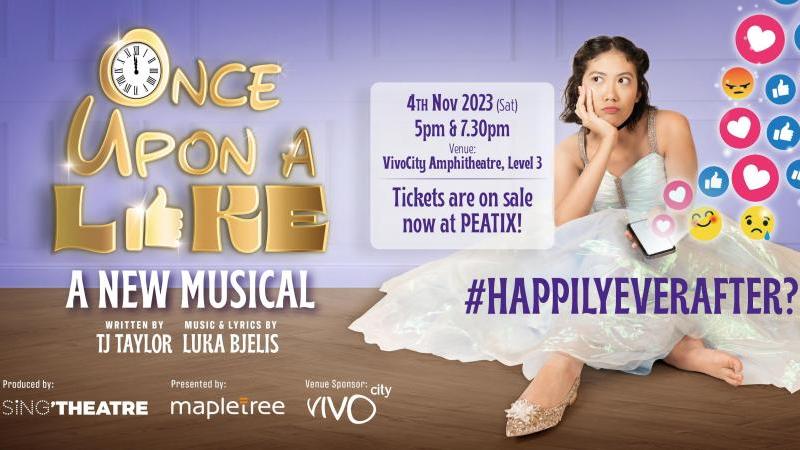 Fun, current and full of modern references, this musical, proudly presented by Mapletree Investments, will make the whole family look at their social media with a different perspective through the medium of the beloved story of Cinderella that we all know and love.
How will Cindy (Cinderella) handle the constant pressures of likes, followers, and subscribers? Will Charming break free of his influencer fame and family expectations to follow his true passions? Is everyone in Far Far Away truly happy with their scrolling, swiping, and sharing cycle?
Want to find out? Don't wait for your Fairy God Mother to arrive! Put on your best glass slippers, hop a carriage ride and catch this new musical written here in Singapore by a West End composer and starring a fantastic local cast!
Mr Edmund Cheng, Mapletree Chairman, said: "Sing'theatre first performed at our lunchtime performance series, Mapletree Arts in the City, in September 2022. With arts being one of the four key Corporate Social Responsibility pillars at Mapletree, we are pleased to bring them to VivoCity for a full-fledged one hour inaugural performance. We look forward to presenting more artistic genres to the community moving forward."
"When Mapletree approached us with the opportunity to craft a musical performance at VivoCity, it became clear that we had discovered an ideal collaborator, united by our shared mission to make performing arts accessible to all," said Ms Nathalie Ribette, Executive Producer & Artistic Director of Sing'theatre.
Once Upon A Like premiered as a short musical in 2018 for a local short theatre festival. The script was written by Sing'theatre's Associate Artistic Director TJ Taylor, and the music/lyrics by Composer Luka Bjelis.
"Once Upon A Like was such a hit and so well received that we had to get the creative team back together to transform it into a 1-hour show for the entire family!'" Ms Ribette added.
Since its conception, Luka has moved back to London and has successfully created some new musicals while TJ stayed in Singapore and expanded the Musical Theatre genre in Singapore through Sing'theatre. With the opportunity to revisit their inaugural work and extend it to a full-length show, the British Duo TJ Taylor & Luka were elated. Their partnership, which transcends borders, demonstrated their mastery of the musical theatre genre and their innate talent for captivating and delighting audiences.
"By working collaboratively through Zoom, Luka writes the music and lyrics in London, and then I develop the script as well as work with our fantastic cast of local performers to bring the show to life right here in Singapore", said TJ Taylor.
Since the first version of Once Upon A Like, times have changed; thus the show has been adapted to include TikTok and modern references, alongside the thoughts and feelings of Gen Zs and their parents that will get everyone laughing.
The cast is full of talented next-generation Singapore-based performers who are excited to premier a brand-new musical.
"It is so rare to create a brand-new musical in Singapore, and we are so happy we get to give this opportunity to the next generation of performances and hopefully inspire the next generation of performers in our audience with this new work too," added Mr Taylor.
Make sure to mark your calendars for this extraordinary musical event at the VivoCity Amphitheatre, Level 3, on November 4, 2023.