It's no secret, every business should be wary of fraud and cybercrime, no matter how big or small it is and what industry it's involved in!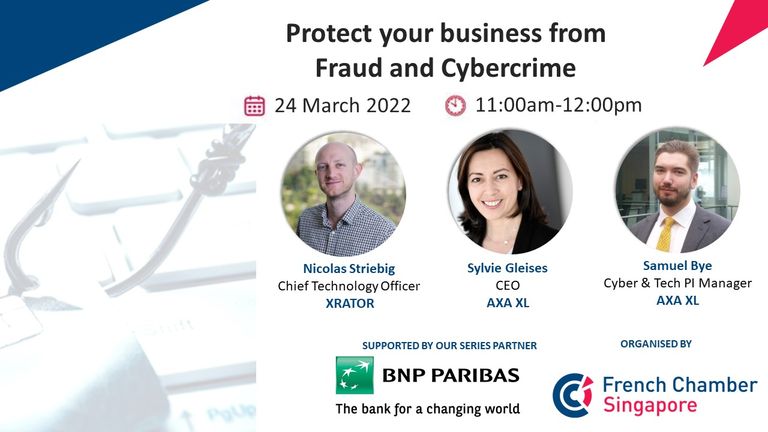 Phishing, Ransomware, Accounts payable fraud, Credit fraud, Tech support scams, etc., Fraud and cybercrime are major concerns for businesses of all shapes and sizes.

Crossing fingers and hoping it won't happen to your company are gone. Join this webinar and learn more about preventative steps you can take to stem losses resulting from fraud and cybercrime and the actions that can help you secure your organisation.

During this session, our experts will discuss what the major threats are and how to prevent fraud and cybercrime:
Nicolas Striebig, Chief Technology Officer at XRATOR
Sylvie Gleises, CEO at AXA XL
Samuel Bye, Cyber & Tech PI Manager – Asia and Middle East at AXA XL

Nicolas will present the current cybercriminal landscape threatening companies, what are their motivations and how we can quantify our risk and defend against each attacker profiles. He will share some of the attacker techniques and procedures to raise awareness and highlight the fact that simple tricks can make their life harder if they dare targeting your business.

Sylvie will tell us on how to build the right culture towards cyber risks at AXA XL, the journey they went through as an organization, the training they put in place and in general their actions to make cyber prevention part of AXA XL DNA.
Samuel will focus on what cyber insurance is from an industry wide perspective, how a cyber insurance policy works and the value of cyber insurance in an effective cyber risk management strategy.
Terms & Conditions :
Full payment is required upon registration. Once paid, registration fees are non-refundable.
The link will be sent a day prior to the event.
Please note that photographs may be taken during the event for news and publicity purposes.
For any question, please contact Amelie Poumaer : apoumaer(@)fccsingapore.com