This FrenchLab will be exploring the "The Climate Fresk", a creative workshop on climate change based on the IPCC assessment report.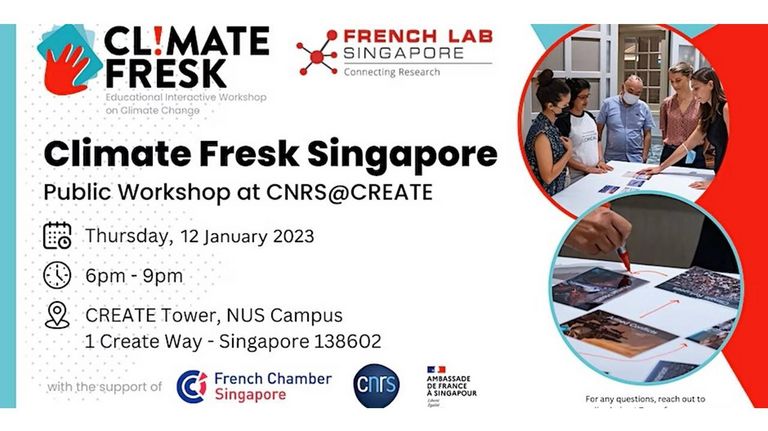 On Thursday 12 January 6:00 pm, we will be holding a special French Lab workshop, following the September AfterLab with Thibaut Meurgue-Guyard, Co-Founder of Found & Seek and IT Sustainability Consultant.
« The Climate Fresk » is a science-based workshop that aims to educate and raise awareness about climate change worldwide.
Based on the IPCC report, it explains how and why the climate changes at the current pace and the consequences of its disruption. It gives participants the opportunity to learn a lot in a very short period of time for both novices and experts.
How the game works: The workshop is based on a 42-card game. Each card represents a topic, a cause or a consequence of climate change.
As a team, guided by your facilitator, you are to find the cause-effect relationship between the different components of climate change. Collective intelligence will get you from one deck of cards to the next! This step-by-step collage provides keys to understand the complexity and develop a strong understanding of the science.
The workshop's program:
- A Brief History Of "The Climate Fresk" workshop
- Icebreaker
- Construction of the Climate Fresk guided by your facilitator
- A short break (if needed)
- Creative phase
- Debrief + time to share, express thoughts and feelings
REMEMBER: The workshop takes place in person, please ensure you are FULLY VACCINATED and that you comply with latest Ministry of Health regulations / measures applicable.
Members and non-members feel free to join us!
For more information about what the French Lab is and what we do, check our website out: frenchlab.sg