Learn how to do an on-the-spot Personality Mapping in just 5 minutes!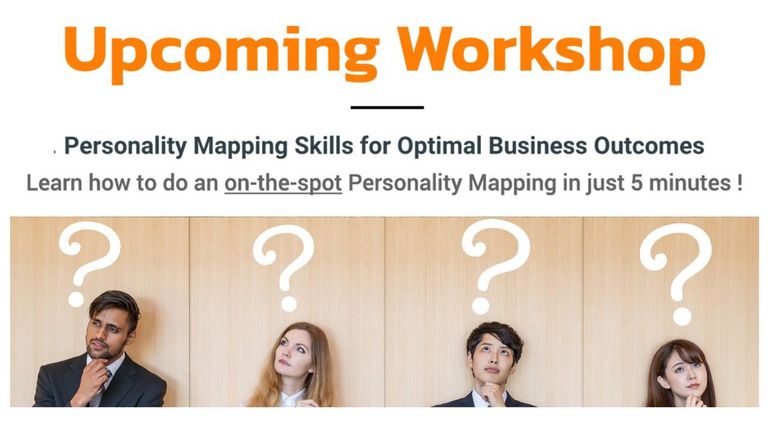 SeeAre is happy to announce that their modular Personality Mapping Program will be open to the public again! This program is intended for professionals who have a keen interest in on-the-spot personality mapping (also called people reading, mind hunting or profiling), which is a skill and an art that enables you to understand a person accurately in order to build a deeper relationship, including in a professional setup. Personality mapping allows you to "get" people quicker, save time in building rapport and enhance the quality of your professional relationships, be it potential clients, leaders, stakeholders or teams.
This online 2-hour modular program is adapted to Europe and Asia time zones.
What is this Personality Mapping Program about?
Personality mapping is a skill to actively listen to the said and the unsaid, observe the body language and pick up any conscious or unconscious cues provided by the sharer in order to understand the person deeply, eventually to the point of being able to identify this person's values... in just 5 minutes!
This modular program focuses on teaching how to apply such a skill in the corporate world in a vast range of situations:
- pitching to a prospective client,
- managing conflict,
- influencing stakeholders,
- managing teams,
- going to an interview, ...
The opportunities are limitless as such a skill can be applied in every single human interaction. Once one gets the essence of a person, it is so much easier for you to communicate with the said person, to connect deeper, find agreement or align in complex situations.
What do participants get by attending the Personality Mapping Program?
- Gain a comprehensive understanding of how to quickly and effectively identify key personality traits, beliefs, and values through active listening
- Participate in hands-on training with a proven personality mapping framework
- Assess your personal strengths and identify areas for growth in the application of personality mapping
- Develop a personalised action plan for integrating personality mapping into your daily business practices, including networking, influence, business relationships, negotiation, conflict resolution, sales and beyond, resulting in improved outcomes and stronger relationships.
We crafted this program to be tailored for professionals.
4 modules of 2 hours focused on improving the understanding of someone's personality and their essence as a person by learning how to:

1) Analyse a person's choice of words for insight into their mind
2) Learn to interpret body language for deeper insights
3) Decode emotions in business conversations for a more complete understanding
4) Synthesise all observations for a comprehensive personality mapping of the person's essence
Each module will be divided into theory and practice. The programme is run by Carina Rogerio and Claire Kolly.

Should this be of interest, please provide them with your details in this interest form. They will contact you with the dates, following which you can confirm your attendance in this upcoming cohort.
If you wish to have additional information or have any questions, leave your details in this interest form. We'll contact you once we have the final dates for this cohort.