Companies news • Analyses & Studies • Portraits • Publications
CEO Sustainability Series | Vismay Sharma President L'Oréal South Asia Pacific, Middle East & North Africa (SAPMENA)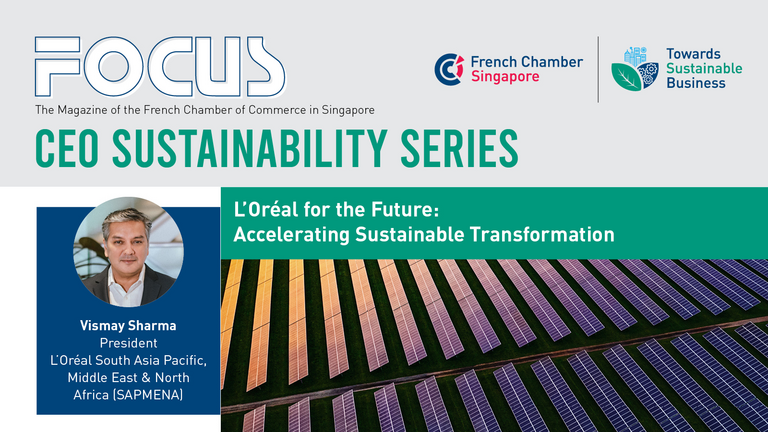 As part of the Sustainable Business initiative, the French Chamber of Commerce in Singapore presents a leadership interview series where we invite CEOs and key executives to discuss crucial management qualities that drive successful sustainable transformation
Question 1 : How is sustainability influencing the beauty sector?
Sustainability is about doing the right thing: working together to tackle unprecedented climate change challenges the world is facing for a more beautiful future for all. In L'Oréal, we hope to be a catalyst of change in the industry, and do this by transforming our activities to respect planetary boundaries, empowering our business ecosystem to transform, and contributing to solving urgent social and environmental challenges.
Consumers want brands they can trust, are transparent and a force for good, especially on respecting the planet and people. Consumers – especially the youth – want more sustainable product choices like green ingredients, recycled packaging and brand causes. To empower consumers, L'Oréal co-founded the EcoBeautyScore Consortium with over 50 beauty companies to provide consumers with clear and transparent environmental impact information on formula, packaging and usage.
Q2 : What are the biggest sustainability issues you've faced and how did you tackle these?
Under our L'Oréal for the Future sustainability program, we have ambitious commitments based on science-based targets. Decarbonisation across Scope 1, 2 and 3 is a top priority to address collectively. Since 2005 we reduced emissions by 87% even as production increased by 37% globally. Across SAPMENA, 14 of 23 sites are carbon neutral including Singapore. By 2025, all our sites globally will have achieved "carbon neutral" status using 100% renewable energy.
We need to empower consumers to take action with us and to encourage behaviour change through innovation. For example, we're creating dry shampoos, leave-in conditioners and quick-rinse products using less water and energy. Garnier's Ultimate Blends no-rinse conditioners can save up to 100 litres of water per tube.
Another challenge we're tackling is plastic: By 2025, 100% of our plastic packaging will be refillable, reusable, recyclable or compostable. We reduce plastic by lowering packaging weight, developing refillables and other material innovations e.g. paperbased tubes for La Roche Posay's Anthelios range using 45% less plastic.
Q3 : How do you see expectations towards sustainability changing among employees, customers, and partners?
L'Oréal's founder Eugène Schueller notably said, "a company is not walls and machines, it's people, people, people." In L'Oréal, we have a culture of test, learn and innovate together. We bring this creative energy to achieving our sustainability commitments. Our part of the world will be disproportionately affected by climate change. As the #1 global beauty leader, we feel a strong sense of responsibility to initiate conversations and change. People want to be sustainable, but the gap is translating that into day-today actions.
Recently we had our annual event to engage 80,000 employees worldwide on sustainability. We held a forum with over 300 strategic suppliers across SAPMENA on sustainability initiatives. Sustainability is a criteria for partner selection and we conduct joint business planning with our retailers. Simply put, sustainability is at the core of our growth strategy.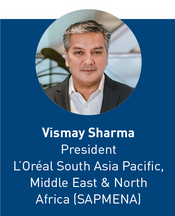 This interview was conducted with Vismay Sharma President L'Oréal South Asia Pacific, Middle East & North Africa (SAPMENA)
May 2023| French Chamber of Commerce in Singapore