Event report
CIO Club 2021 #4 Mastering Your IT Costs by relying on proven frameworks and methodologies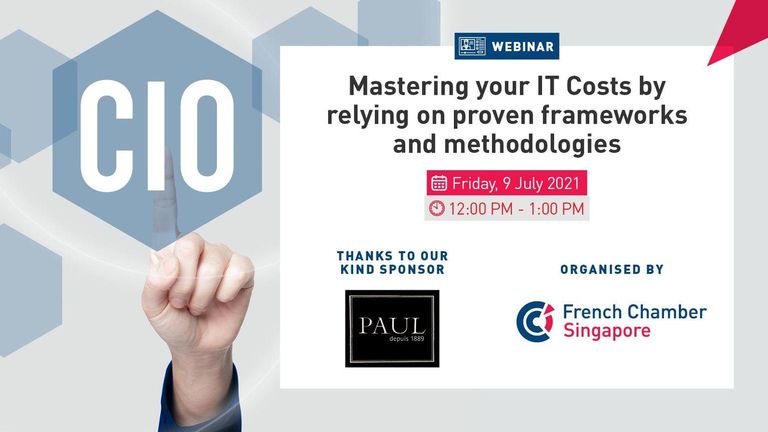 Together with the co-presidents of the CIO Club, Christel Vache (Total Oil Asia-Pacific) and Thomas Darbois (Bollore Logistics), we are pleased to host this interactive and online session on the topic "Mastering your IT Costs by relying on proven frameworks and methodologies" animated by Cedric Dufour, Head of IT Optimization at Optimal Cost and Joachim Treyer, CEO at Valoptia.
This session tackled the following elements:
What is the Activity Based Costing method, and how can you apply it in your organization,
What are the results, impacts and saving opportunities you can expect from deploying ABC in your organization,
How have other IT organizations deployed such a method, and what were the benefits and challenges associated with it.
The lunch was kindly sponsored by PAUL Singapore and delivered to all attendees before the session.
***
The CIO Club by the French Chamber's Tech & Innovation Committee has launched a series of exclusive events dedicated to CIOs of MNCs only. The purpose of this intimate meeting and exchange is to share best practices and network with counterparts in Singapore.
For more information, please contact Aurelie Martin.
Access the speaker's presentation (Only for members)