COVID-19 • Companies news
DBS to offer free COVID-19 relief insurance coverage for all five million DBS/POSB customers and families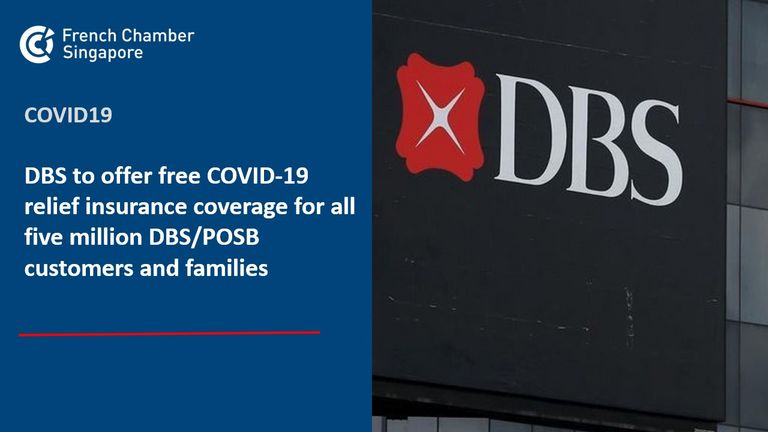 Customers can sign up for the COVID-19 Hospital Cash insurance policy online, or at any DBS/POSB bank branch island-wide from 24 February till 15 March.
DBS today announced that it has partnered with Chubb Insurance Singapore Limited (Chubb) to offer all its five million customers in Singapore complimentary insurance coverage in relation to COVID-19. Both parties are also in discussions to introduce similar coverage policies for customers in the regional markets that DBS operates in.

Launching on 24 February, the COVID-19 Hospital Cash policy is a 30-day free cover that provides a daily cash benefit for hospital confinement and a lump sum payout for ICU confinement, in relation to COVID-19[1]. It also provides worldwide coverage for policyholders who must travel during this period[2]. DBS/POSB customers who are Singapore Residents aged 18 and above can apply for the COVID-19 Hospital Cash policy as the main policyholder, and include their immediate family members1 as additional insured persons. There is no age limit, though the policy can only insure those who are one month and above, and family members do not have to be DBS/POSB customers.

Said Shee Tse Koon, DBS Singapore Country Head, "On the back of the liquidity relief measures we introduced last week, we wanted to further enhance the community support measures for our customers and the public in Singapore. Alongside the public health measures announced by the Singapore Government, we hope this coverage – which will be available to almost all Singapore residents – will help to further cushion affected patients' healthcare expenses during a difficult period. Together with our partner Chubb, we stand shoulder-to-shoulder with the people of Singapore and will continue to do our best to support everyone here."

Scott Simpson, Country President of Chubb in Singapore said, "Chubb, like DBS, recognises the importance of aiding customers during this critical period. In view of the evolving coronavirus situation, we want to provide DBS customers with appropriate protection, peace of mind and confidence to carry out their daily activities, knowing that in the event of the unfortunate, they are protected. As partners, we stand in solidarity to give the local community our full support in this time of need."

Those who are diagnosed with COVID-19 while being covered by the COVID-19 Hospital Cash policy will receive SGD 100 per day of hospitalisation and a lump sum of SGD 1,000 upon admission to the ICU.

The COVID-19 Hospital Cash policy will be available for customers to sign up online from 24 February till 15 March. Customers may also apply at any DBS/POSB bank branch island-wide. The 30-day free cover commences on the date of application and will expire automatically. Should customers wish to extend their coverage beyond the 30 days, they can also choose to purchase additional coverage with the Recovery Hospital Cash policy. It provides policyholders with daily cash payouts for hospitalisation stays due to COVID-19, as well as other sicknesses (including dengue fever) and accidental injury.

The offer of free COVID-19 relief insurance coverage for all DBS/POSB customers is a part of the bank's overall community support efforts during this difficult time. For more information on the COVID-19 Hospital Cash policy, please refer to the FAQs appended or visit https://www.dbs.com.sg/personal/support-covid-community to find out more.