Companies news
Diapason partners with Bulsing Digital to accelerate its business in Asia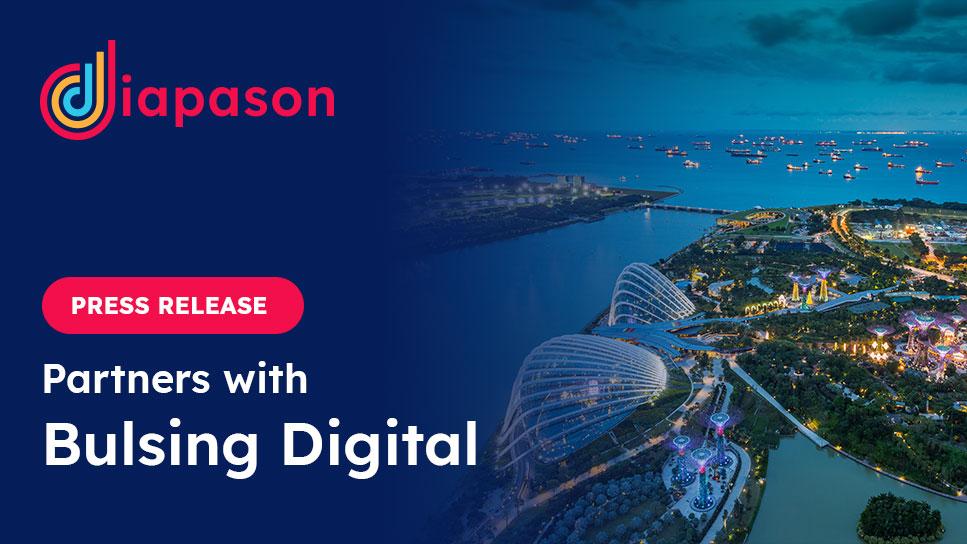 Diapason, a software vendor of treasury and risk management solutions, has signed an agreement with Bulsing Digital for the sales and distribution of its treasury management solutions in various Asian markets. Bulsing Digital is a consultancy that specializes in business development of treasury and enterprise financial solutions based in Singapore and it supports FinTechs in their business development and growth across Asia.
Acceleration of Diapason's business in Asian markets
As an expert in treasury, financial risks solutions and Asia markets, Bulsing Digital will help Diapason to grow its business in Asia starting with ASEAN & North Asia markets. myDiapason Treasury and Risk management system is a leading solution that is helping treasury and risk management departments digitally transform their financial processes. Its capabilities are proven across multiple industries and is already helping some of the biggest global brands manage their domestic, regional and global operations.
Frédéric Saunier, general manager of Diapason, says: "We are very happy to sign this partnership with Bulsing Digital. This collaboration will allow us to rapidly develop into various Asian markets. Their knowledge of treasury and financial solutions and their experience in local markets will help us to accelerate our growth".
Solutions that meet market requirements
Ivo Gueorguiev, General Manager of Bulsing Digital explains: "We are delighted to accompany Diapason and help them accelerate customer acquisitions in Asia. Diapason's solutions — available in both deployed enterprise and SaaS — provide rich and sophisticated workflows, including auto hedging that meet the requirements of the local Asian markets. Asian treasurer's demands are evolving constantly and recent volatilities in the financial and commodities markets is driving requirements for more sophisticated financial risk management including hedging, operational and compliance management. Treasurers and CFOs can make use of myDiapason's unique 360-degree view of treasury to monitor cashflows and automate their key processes freeing up time to focus their core business".
" myDiapason solutions provide a very large set of capabilities, and they have the advantage of covering all the treasurer's and financial officer needs including cash management, payment automation and fraud protection, as well as financial and credit risk management and hedging." adds Frederic Saunier.
A desire to become the leading provider of treasury solutions in Asia
"We have over 15 years experiences working in local Asian markets, and there is a real need for myDiapason solutions – I'm excited to make it one of the leading providers of Treasury and Risk Management Systems for Asian companies and financial institutions." concludes Ivo Gueorguiev.
SOURCE : diapason