The Chamber Finance - Assurance - Banque
Singapour FinTech Week
Suivez la délégation de 7 Fintech françaises lors de leur semaine d'immersion à Singapour du 11 au 15 novembre 2019.


Qu'est-ce que la Singapour FinTech Week?

La French Chamber of Commerce in Singapore propose une semaine complète d'immersion afin de connecter avec l'écosystème dynamique de la FinTech singapourienne (Finance, Assurance, Conseil, etc.).
Cette semaine se composera, entre autres :
une présentation macro-éco de Singapour et de la région ASEAN : tendances, pratique des affaires, codes culturels, enjeux et potentiel du secteur FinTech
une visite avec des rencontres sur le Fintech Festival : 45 000 visiteurs, décideurs et investisseurs de plus de 130 pays
des visites de sites et d'acteurs majeurs de la finance
des événements networking sur l'espace France du Fintech Festival, et hors les murs (en ville, Résidence de France)
la participation au Asia Startup Summit 2020 : pitch des startups puis sessions speed-meeting avec les corporates
l'organisation de RDV BtoB individuels ciblés
Programme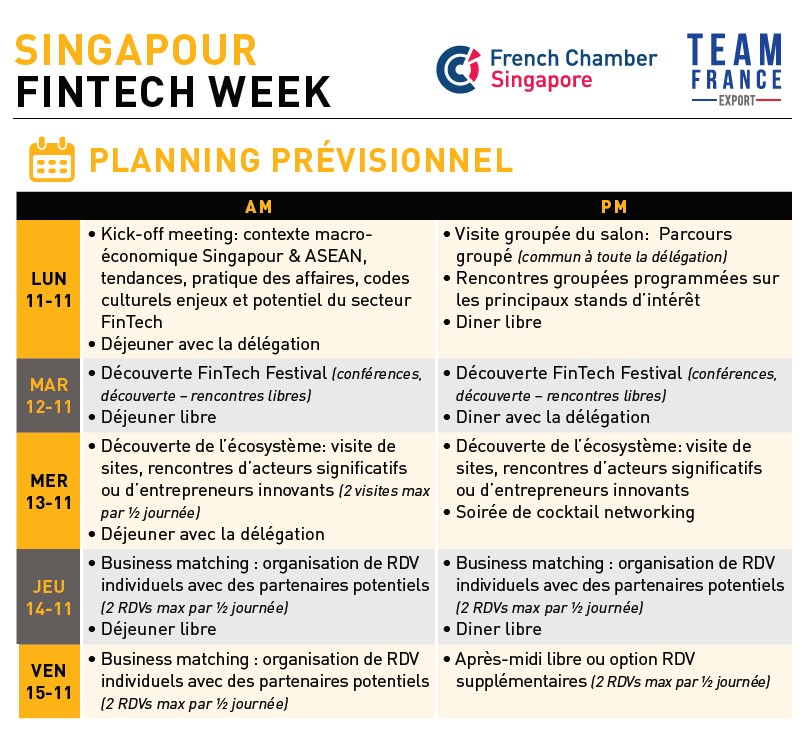 Pourquoi venir à Singapour ?

Information marché : Véritable hub et porte d'entrée du marché asiatique, Singapour se positionne comme une place incontournable des technologies financières et pionnière de l'innovation :
4ème centre financier mondial derrière Londres, New York et Hong Kong
1ère place mondiale en pénétration bancaire en ligne (82.5%)
Le secteur de la FinTech est particulièrement prometteur avec des investissements qui ont atteint un montant record de 468 millions USD.
La croissance du secteur est soutenue par les différentes mesures prises par la Cité-État et notamment par le MAS (Monetary Authority of Singapore) qui souhaite faire de Singapour un Smart Financial Center. En 2016, le MAS a mis en place un plan de développement de l'écosystème Fintech sur cinq ans doté de 165 millions USD. Grace à son écosystème attractif, Singapour compte aujourd'hui la plus grande concentration de start-ups FinTech (> 490 startups FinTech) et d'incubateurs/innovation hubs (> 50) en Asie du Sud Est.