Publications
FOCUS 72: Propelling The Digital Era Across The Oceans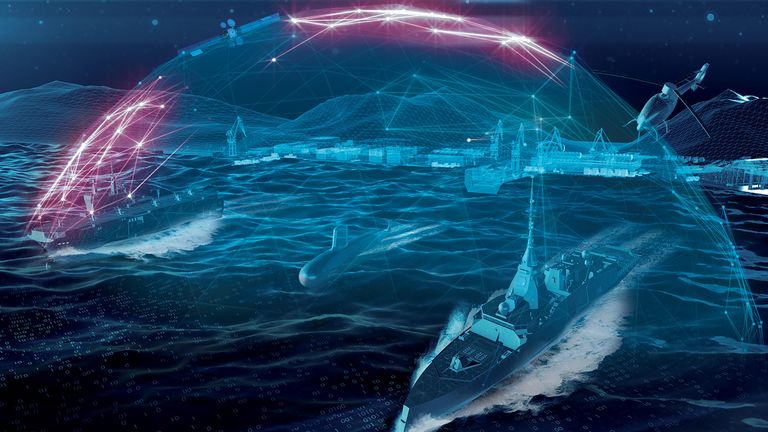 Christophe Blais, Sales and Marketing Director, Naval Group Far East Pte Ltd, shares about the digital vamp of the maritime industry, particularly in the area of naval systems.
What is Naval Group doing in the region regarding R&D?
Naval Group is constantly striving to meet its clients' needs and provide them with the most advanced designs, products and innovative solutions to ensure their operational superiority. To benefit from different expertise and ecosystems, Naval Group has been internationalising its R&D activities. Famed for its academic rigour, vibrant maritime ecosystem and keen ambitions on technology development and implementation, Singapore was the ideal place for the first overseas R&D site. Opened in November 2019, Naval Group Centre of Excellence in Singapore now complements activities of Naval Group Far East – Naval Group 100% subsidiary – in the city-state.
This new Centre of Excellence seeks to develop solutions with dual-use applications, meeting the increasing needs of both defence and civilian worlds. To this end, the Centre of Excellence will tap into Naval Group and French R&D centres expertise and rely on collaboration with the Singaporean academic ecosystem and partners to spearhead projects locally. Naval Group Far East will bring the project deliverables to market once they reach the appropriate level of technical maturity.
Naval Group Centre of Excellence in Singapore currently aims to develop local expertise in three domains: Artificial Intelligence, Data Science and Internet of Things, with these three pillars underpinning the Group's various projects. Despite the current circumstances, the Centre will develop its in-house capability to launch several ambitious R&D projects by the end of the year.
How does Naval Group innovate on the shift towards digitalisation of the naval defence sector?
We will continue to see a digital revamp in the current and upcoming waves of vessel modernisation and upgrades, with increasing sensorisation and the incorporation of technologies such as augmented/virtual reality and artificial intelligence (AI)-enabled data processing set to boost operational expediency and efficiency.
Belh@rra® - Naval Group's design on which the French Navy latest frigate is based - is a prime example of this new generation of ships. Her digital computing architecture concept (cloud principle) provides access to multiple and flexible applications and services. It enables continuous adaptation to the increasing demands of embedded systems, confers information supremacy to the navy for swift operations, and comprises agile information systems that can be tailored to different Concepts of Operations. These systems are supported by decision-making tools and boast user-friendly Man Machine Interfaces (MMI), promoting seamless and stable data flow amongst the disparate subsystems.
Naval Group has also embraced the tenet of a cybersecurity lifecycle and developed a framework to ensure the ship cyber-resilience throughout her lifecycle. Buttressed by a resilient architecture and critical equipment and system hardening, it offers dynamic threat-monitoring coupled with real-time AI-enabled solutions in order to detect, analyse and counter possible intrusions.
We have seen a lot of coverage given to unmanned aerial vehicles (UAVs), is there a maritime equivalent?
In the naval and maritime sectors alike, unmanned systems - whether remotely controlled or autonomous - are garnering interest as viable solutions for dull, dirty and dangerous tasks, thereby removing the human operator from harm's way and optimising manning for various use cases. With missions ranging from weapons delivery to mine detection, opportunities are endless. Naval Group develops Unmanned Surface Vessels and Unmanned Underwater Vessels (UUVs) but can also integrate drones into existing systems. The I4®Drones Mission system - a drone-agnostic solution - enables simultaneous operation above and underwater, as well as exploitation of multiple drones.
With a focus on autonomous capabilities, multi-system collaboration and integration to naval platforms, Naval Group has, through many years of careful research and development with the French and partner navies, developed solutions to enable the deployment of autonomous vehicles to be most effective in enhancing the ship's capabilities and crew security.
Interview with Christophe Blais, Sales and Marketing Director, Naval Group Far East Pte Ltd , for FOCUS #72. To read more articles from this issue, download your digital copy here