Publications
FOCUS 74: Opening Up New Horizons
Samson Khaou, Executive Vice President, Asia Pacific, Dassault Systèmes, shares the company's vision for smart cities to be enabled by virtual 3D technology.
Could you share how Dassault Systèmes solutions create a more sustainable world?
Dassault Systèmes has been the catalyst and enabler of the world's greatest industrial transformations. We have helped manufacturers to disrupt how products are designed and made, and to rethink their development and production methods.
We have done this through virtual twin experiences. Virtual universes combine technology, science and art to provide a holistic approach to innovation and an inspiration for new offerings that can create harmony between product, nature and life. They usher in an entirely new way of inventing, learning, producing, and selling. They not only enhance the creative environment, they also allow anyone to reimagine a better future while understanding the social and ecological impacts of every design decision they make.
How can Dassault Systèmes 3DEXPERIENCE platform help companies to improve and optimize their business operations?
The 3DEXPERIENCE platform allows our customers to imagine their new products and processes in a virtual 3D universe, thereby eliminating the need for physical prototypes, which consume large amounts of natural resources. As a result, businesses can design, and test consumer experiences, from ideation to market delivery, before actual production.
It provides a real-time view of business activity and ecosystem, connecting people, ideas, and data in a single collaborative environment that empowers businesses and people to innovate in entirely new ways. This means that businesses can become "platform companies", transforming from disparate disciplines to ecosystems, by connecting people, ideas, and data in a single collaborative environment.
How can Dassault Systèmes virtual twin capability enable cities to visualize, analyze and manage complex decisions when becoming a smart city?
Virtual twins are sophisticated computer models that allow cities to track thousands of parameters – ranging from the description of the existing assets of a city to information related to traffic, pollution or population. Virtual twins do not only gather data, they represent relevant and representative models of the physical world for collaborative decision-making purposes that are indeed real. With virtual twins, cities can run "what if" scenarios in the twin, allowing them to envision what will happen if they make a decision and receive feedback from multiple teams.
Our 3DEXPERIENCE platform, supports complex decision-making using the virtual twin as a single source of truth for the city's data. It can be used for domain-specific challenges like providing mobility services, managing waste or optimizing urban development, and for dedicated projects such as planning and developing a new hospital or transport hub. In both cases, the 3DEXPERIENCE platform facilitates the coordination and common understanding of the activities handled by multiple city departments and/or external stakeholders.
In France, for instance, collaboration on the cloud is helping Rennes Métropole in the context of our Virtual Rennes project. They can track common projects supported by Virtual Rennes to perform their daily activities. Half of the users on Virtual Rennes' collaboration platform are from the network of organizations and external stakeholders it regularly works with. All of them can collaborate as needed around its virtual twin and more users can be added as the needs evolve.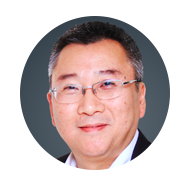 Interview with Samson Khaou, Executive Vice President, Asia Pacific, Dassault Systèmes, for FOCUS #74. To read more articles from this issue, download your digital copy here