Publications
FOCUS 75: Women in Business – they mean business!
Chloé Vialard, Shearman & Sterling, Anne Tan, GEODIS and Sandra Tang, Sanofi (in photo from left to right), co-presidents of the Women in Business Committee at FCCS
The Women in Business Committee (WBC) established itself as an open forum for FCCS members to share diversity-centric best practices and challenges. Since 2019, its co-presidents drive discussions and actions to support a vision of women in the workplace based on promoting professional equality. The committee's 2021 agenda aims to engage members and leaders in collaborative projects raising awareness on gender balance as a strategic business priority and levelling the playing field for those women in business that would have been disproportionately affected by the pandemic.
Starting this month, WBC co-presidents will lead intimate open conversations with inspiring women executives and entrepreneurs who are leaders in their respective fields. It will also build on its successfully launched roundtable series that bring together decision-makers from different industries to share their experiences and shine the spotlight on sustainable diversity and inclusion policies and initiatives.
According to Sandra Tang, Finance Transformation Project Manager Asia at Sanofi, "by creating targeted opportunities for women of different organisations in Singapore to connect with one another, we seek to promote a new type of collaborative mentoring of women talents across the corporate world. What we see to accomplish with the FCCS is supplementary to companies' internal programs such as at Sanofi, where we are committed to matching our employees to provide meaningful tailor-made support. Sanofi seeks to reach 50/50 gender parity in its top 2,000 leaders by 2025".
"Noting a gap in diversity & inclusion recognition and awards, the WBC is also looking at creating categories and defining criteria to better acknowledge efforts by organizations as well as individuals. By starting to have more rigorous expectations in this area, this will enable a more common language and standards that everyone can work towards."
"At GEODIS, we have pledged a firm commitment in agreement with Bureau Veritas to recognize our commitment to gender equality in the workplace across multiple countries over the next 3 years", comments Anne Tan, Head of Human Resources, GEODIS APAC. "By obtaining the GEEIS (Gender Equality European & International Standard) designation, GEODIS is proud to establish leading edge gender Diversity & Inclusion standards, including pay equality, maternal and paternal leave, trainings, advancement in career, amongst others. Having well defined standards and aspirations will make moving the needle on this topic much easier, with better articulated measurables and more targeted efforts."
"Promoting equality also primarily comes through the law and companies are increasingly held accountable to consider gender diversity metrics at the board level and beyond, in the context of developing environmental and social governance (ESG) regulations."
"The pandemic and associated lockdowns have regrettably compounded the systemic problem of domestic violence against women, referred to as the "shadow pandemic". In this context, companies are increasingly developing policies and engaging in multi-stakeholder collaborations to support victims. Lawyers have an opportunity to play a pivotal role by providing guidance, implementing frameworks, advocating for women's rights, and helping victims more generally. In Singapore, Shearman & Sterling offers financial literacy training to empower victims to break out of the cycle of violence through economic independence." adds Chloé Vialard, Associate/Avocate and Head of Strategic Partnerships, International Arbitration at the global law firm Shearman & Sterling.
WBC co-presidents recall that discussing the vision set by France for gender equality in a meeting with French Secretary of State Agnès Pannier Runacher during the 2019 Asia Women's Forum for the Economy and Society, contributed to build a momentum and gave an impulse in engaging in the WBC initiatives. Geodis, Sanofi and Shearman & Sterling are also partners of the Women's Forum.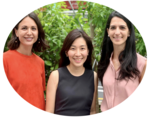 Interview with Chloé Vialard, Shearman & Sterling, Anne Tan, GEODIS and Sandra Tang, Sanofi, for FOCUS #75. To read more articles from this issue, download your digital copy here