Companies news
Issues in the Environment Space in Singapore: Food Waste
Food waste is one of the largest waste streams generated in Singapore.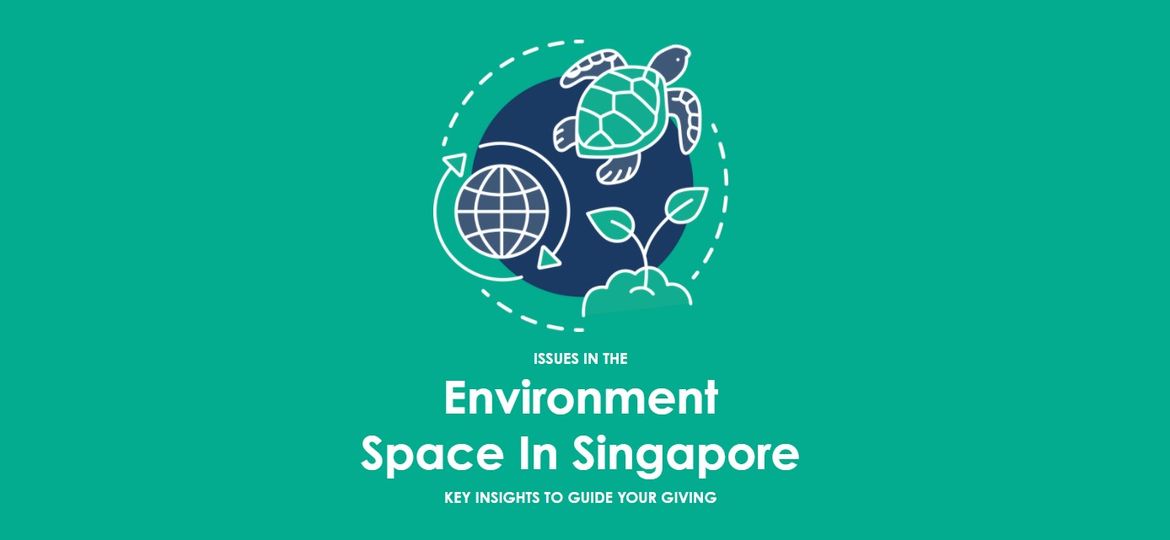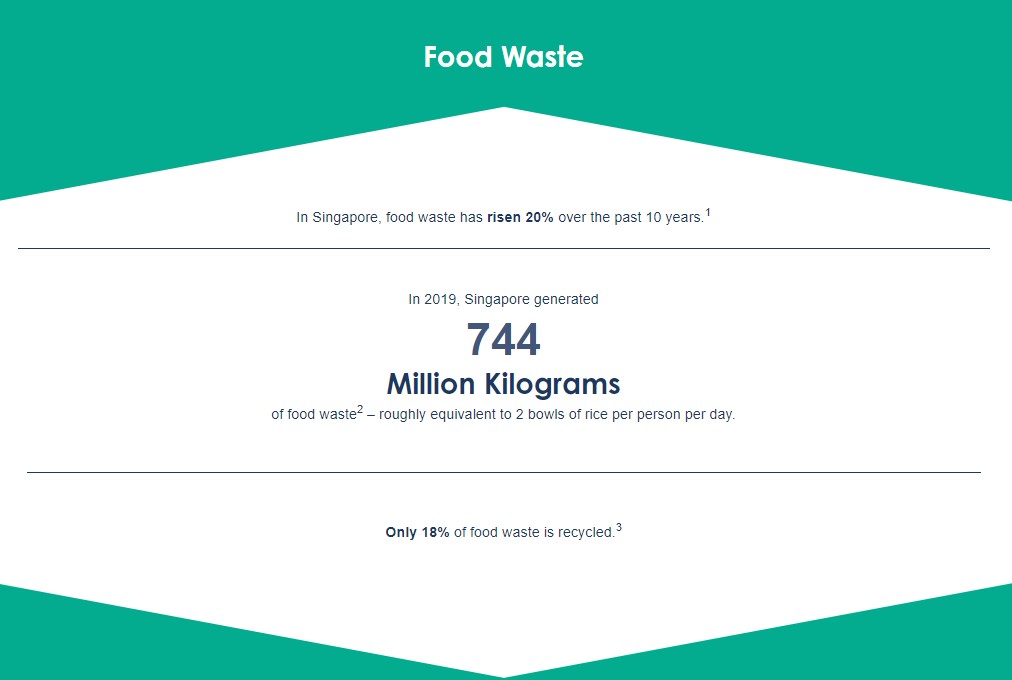 Why Should You Care
Food waste is one of the largest waste streams generated in Singapore.
As a child, we often hear the warning "Don't waste food!"., This actually goes beyond unfinished meals. Of course, poorly managed food waste can cause pest and odour problems, contaminate recyclables and hamper recycling effort. But the issue is far more insidious and multifaceted than a simple case of wasted resources and efforts.
Food waste can come from commercial preparation and distribution of food. To make food look better for the plate, restaurants commonly do cosmetic filtering by discarding food or food parts that are 'ugly' but otherwise perfectly edible. It could also be due to inefficient industry processes such as storing food for too long or inefficient refrigeration leading to spoiled food.
Food waste from individuals and commercial settings that are not sent for treatment are incinerated, contributing to an increasingly overused landfill at Semakau which is expected to be fully filled by 2035.
What Are The Existing Forms Of Support
There has been ongoing efforts to tackle food waste at various levels. In 2019, the National Environment Agency (NEA) rode the momentum of the Year of Zero Waste to introduce various awareness campaigns and community engagements, including working with hawker centres and supermarkets, and galvanizing Food Waste Reduction Ambassadors in the community.5
A landmark policy move was the passing of the Resource Sustainability Act in late 2019, which was a legislation to address priority waste streams including food waste. By 2024, large commercial and industrial food waste generators are required to segregate their food waste for treatment either on-site or off-site.6 In relation to this, Food Waste Fund was recently introduced to help companies cover the capital cost of food waste treatment solutions and put in place practices to minimize food waste.7
At the grassroot level, neighbourhoods such as Nee Soon South and Tampines have successfully piloted community fridges at void decks where residents and community partners can place their food donations into the fridges for the consumption of those in need.
In the ground up space, initiatives such as Foodscape Collective bring together a community of enthusiasts to create sustainable and resilient food system. They actively work with businesses, government and community partners to raise awareness and run activities such as composting and excess food redistribution.
What More Could Be Done
More could be done to foster an environment that allows and encourages more food to be donated to charities. Responding to calls from food service organizations, Singapore Food Agency is considering to introduce Good Samaritan Food Donation Act to encourage companies and organisations to donate healthy food that would otherwise go to waste. Similar law is already implemented in countries such as Italy and the United States and help ease business concerns over donation of excess food.
Better food labelling policy can also help reduce food wastage. Food organizations and green advocates are calling for better distinction between Best Before, Used By, Expiry Date—which are currently being used interchangeably in Singapore. This lack of clarity means that food that has reached its 'use-by' date—referring to food with reduced quality and flavour but still fit for consumption—often end up being wasted, as they are no longer allowed to be sold or distributed in Singapore. A more conscious labelling could lead to more food that are still safe to consume but has gone slightly past their 'best before dates' to be donated to food charities.10
How You Could Help
If you are an individual, the best way of reducing food waste is to avoid generating it in the first place. Buy, cook and order only what you can finish. Check expiry dates of food products and consume them before they go bad—of course always observe for signs of spoilage! Also, do not shy away from 'ugly food' and make the most of trimmings, edible seeds or pits (Fun fact: do you know you can grow new plants from trimmings?)
If you work in a corporate or any institutional setting, you can help your organisation evaluate their supply chains efficiency and eliminate waste where possible. Or go one step further and challenge your company to reduce waste throughout their operations. For example, Sodexo's11 WasteWatch has been monitoring food waste levels and causes and effectively using this data to implement targeted operational and behavioural changes in the company.12
If you are a grocer or restaurant, consider going waste-free and support the ugly food movement to reuse food waste. But you do not have to be a food and beverage establishment to do something about food waste. Whether you are manufacturers, distributors, retail stores, hotels, even schools, you can consider donating excess food and leftovers to communities in need.
Actively partner and support non-profits and ground-up movements to redistribute unsold or excess food, especially to communities in need. The Food Bank Singapore works to re-distribute food destined for incineration and has a host of exciting volunteering activities for corporate groups, including visiting their warehouse to sort, pack and transport donated food. Or help out at SG Food Rescue's Community Fridge Re-stock who help to re-distribute food to those in need.
1 National Environment Agency (n.d.). Food Waste Management
2 Ministry of the Environment and Water Resources (n.d.). Food Waste
3 National Environment Agency (2019). Waste Statistics and Overall Recycling
4 UglyFood (n.d.). Cosmetic filtering
5 National Environment Agency (2019). Everyone urged to adopt 3 easy habits to reduce food waste.
6 National Environment Agency (2020). More Than 300 F&B Businesses Required To Segregate Food Waste For Treatment Under New Legislation
7 National Environment Agency (2020). Food Waste Fund.
8 Kwan, J. and A. Tan (2019, Aug 28). The Straits Times. Good Samaritan Laws may help reduce food waste.
9 Singapore Food Agency (2020, Feb 27.) Best before and sell by date difference.
10 Ong, A. (2019, Sep 14). ChannelNewsAsia. Commentary: Reduce waste by redistributing food surplus to low income.
11 Sodexo (2018). Reducing food waste in schools.
12 Sodexo (n.d.). WasteWatch powered by leanpath.
Source: City of Good SG
Photo by Annie Spratt on Unsplash