Companies news
Kacific has won INSEAD 'Business as a Force for Good Award – 2021'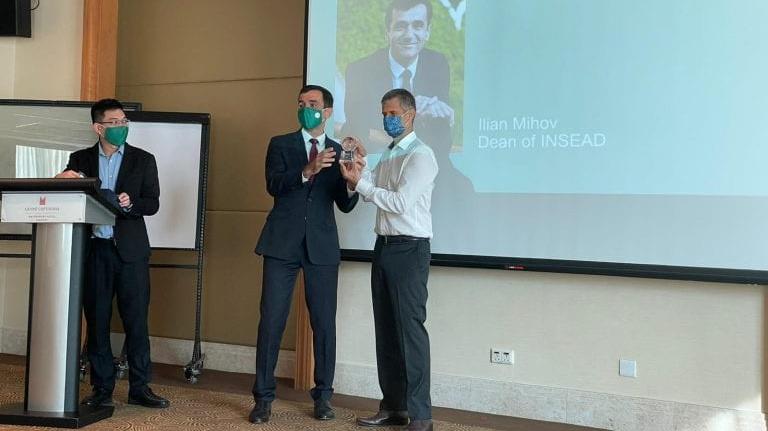 Dean Ilian Mihov and Tan Eng Hwa TIEMBA'16Jan present BAFG Award to Christian Patouraux MBA'03D at INSEAD Alumni Association Singapore's Annual General Meeting on 26 February, 2021
After several rounds of consideration, INSEAD is pleased to announce that we will confer the Business as a Force for Good Award Singapore – 2021 Edition to Kacific Broadband Satellites Ltd Ltd. We were particularly impressed by the impact it made in helping rural communities improve healthcare and education conditions. We were also impressed with the business model which is built from the ground up with social impact in mind.
Christian Patouraux MBA'03D is the CEO of Kacific Broadband Satellites Group – a company he founded in 2013. Driven by the belief that "there is only one internet" – and that therefore access and quality level should be universal, Christian assembled a team of satellite and telecom industry veterans to build Kacific, a company that would design and launch an advanced telecommunications satellite and offer reliable satellite broadband to underserved parts of Southeast Asia and the Pacific – at low cost, no matter where and to whom.
In December 2019, Kacific launched Kacific1, its first "high-throughput" geostationary satellite which covers 25 countries in South-East Asia and the Pacific Islands with powerful spot beams, delivering reliable, high-speed internet service to communities that were previously out of reach of affordable or high-quality internet.
In the wake of COVID-19, Kacific increased its presence in schools, hospitals and remote communities. In Indonesia, the Philippines, Vanuatu, Timor-Leste, Tuvalu, and many more countries, patients can now be treated at rural clinics instead of congested central hospitals, students can pursue further studies remotely from their villages, and communities have access to better resources on gender equality, and family planning. At the same time, provincial governments can stay in touch with state authorities regarding nationwide programs such as early warnings and disaster recovery, leading to better coordinated emergency response as in the case of COVID-19.
Some of the social impact projects involve connecting 118 clinics & 200 schools in remote and rural areas of Vanuatu, in partnership with the Ministry of Health and Ministry of Education to connect over 7,000 users to high-speed internet which helps with efficient stock management, online consultations, remote education and emergency situations. Kacific also connected over 2,000 users including Timor-Leste's central medical warehouse facility and 68 pharmacy and health clinics sites across Timor-Leste allowing medical professionals to access national patient databases, access logistics and distribution software for vital medicines and medical equipment and improved healthcare systems nationwide.
Kacific plans to augment its current services as well as extend its reach towards Central Asia as it plans the launch of Kacific2, a second geostationary satellite that would replicate, expand and enhance the model of Kacific1.
With the many lives changed through having access to high speed internet, we are proud to say business can indeed be a force for good.
This article was first published on INSEAD.