Companies news
LOGOS and ENGIE to build a Renewable Energy Platform to deliver Solar Solutions Across Asia Pacific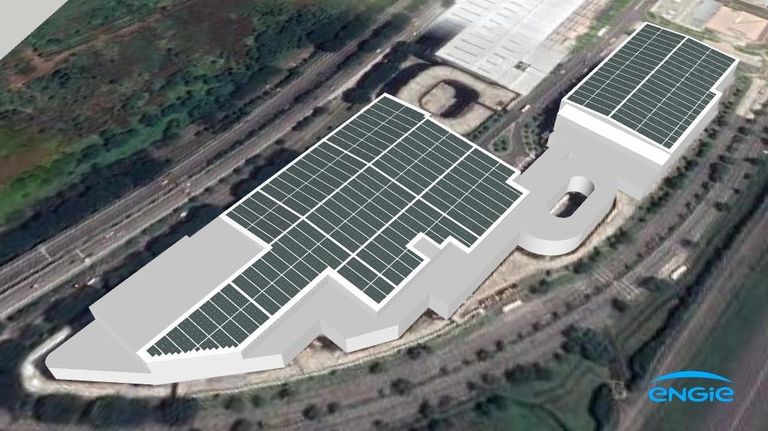 Image: Mock-up of ENGIE Renewable Energy Installation on DHL's facility at a LOGOS estate in Singapore.
LOGOS and ENGIE have established a partnership to build a Regional Renewable Energy Platform to provide solar generation and renewable energy options for LOGOS' Asia Pacific portfolio. This initiative underlines LOGOS' ambition to build sustainable logistics infrastructure and confirms ENGIE's purpose and capability to accelerate the energy transition globally.
Under the partnership, ENGIE and LOGOS will jointly look to deliver options for the development and financing of renewable energy generation and storage assets throughout Asia Pacific, with an initial focus on rooftop solar PV in Singapore, Australia and New Zealand. The parties will seek to scale this solution by delivering renewable solutions to LOGOS' existing portfolio of assets and customers, as well as on its extensive pipeline of development projects across the region.

The first project under the partnership has been agreed with the global logistics leader, DHL, who has committed to a circa 5MW solar installation at its Singapore facility at LOGOS estate in Singapore. DHL's commitment is in line with its Environment, Social and Governance agenda to operate all its owned or leased facilities at Net Zero Carbon 2025, with the solar initiative playing an important role in this.

LOGOS is a co-investor and manager of over four million sqm of roof top space within its existing logistics portfolio, serving top-tier international corporations comprising mostly of specialised storage operators, e-commerce, retail and 3 PL customers. It is developing over one million sqm of warehouse space and roof tops per annum. This provides a considerable opportunity for LOGOS to work with ENGIE on establishing a scalable platform aiming to supply long term sustainable power to businesses in the region through corporate power purchase agreements. The new platform is expected to avail 50 to 150 MWp of renewable generation capacity annually.

Trent Iliffe, LOGOS' Managing Director and Co-CEO, said: "Sustainability is a key part of our business philosophy and this new partnership with ENGIE is an important step forward in our social obligation and commitment to creating a positive environmental impact through the options available via our portfolio and beyond.

"As we move into a world where governments, corporates and consumers are looking to move to renewable energy options to support their growing power needs, we are excited to be able to contribute to the move away from fossil fuels by working with our capital partners, customers and ENGIE as leading Corporate PPA provider to help shape the future of energy supply in Asia. This partnership will provide LOGOS' capital partners and customers with access to a sustainable, renewable energy solution that can be incorporated on both existing and new assets," Mr Iliffe added.

Thomas Baudlot, ENGIE South East Asia CEO, confirms: "This type of partnership allows ENGIE to be at the forefront of Asia Pacific's transition towards a low carbon economy. By providing fully integrated and financed solutions that reduce energy needs and provide access to green energy, ENGIE has the value proposition to help its customers to reduce their carbon footprint while increasing their competitiveness. ENGIE is excited to partner with a leading player like LOGOS, with whom we share common values and concern for the greater good".

"As the world's leading logistics company, we are committed to making every aspect of our business sustainable. We are excited to be working with the LOGOS and ENGIE for the solar panel installation in our Singapore facility. This commitment is a testament to our continued effort to reduce our carbon footprint, and this initiative brings us closer to Deutsche Post DHL Group's mission to reduce all logistics-related emissions by 2050," said Jerome Gillet, CEO, DHL Supply Chain, Singapore, Malaysia and the Philippines.
About LOGOS
LOGOS is a dynamic and growing logistics specialist with operations across Australia, China, Singapore, Indonesia, Malaysia, Vietnam, India and New Zealand. LOGOS' shareholders include ARA Asset Management, the largest Asia Pacific real assets manager with S$116 billion in gross assets under management globally; Ivanhoé Cambridge, a Canadian real estate industry leader investing in in high-quality properties and companies with C$60.4 billion in real estate assets globally; and LOGOS' founders.

LOGOS manages every aspect of logistics real estate, including investment management, sourcing land or facilities and undertaking development and asset management, on behalf of some of the world's leading global real estate investors. LOGOS has total Assets Under Management (AUM) of over US$16 billion, comprising over 8.8 million sqm of property owned and under development across 26 ventures, including the Singapore listed ARA LOGOS Logistics Trust.

About ENGIE South East Asia
ENGIE Group is a global reference in low-carbon energy and services. In response to the urgency of climate change, our purpose is to accelerate the transition towards a carbon-neutral economy "as a service" for our customers, in particular global companies and local authorities. We rely on our key activities (renewable energy, gas, services) to offer competitive turnkey solutions.
At ENGIE South East Asia, a cluster under ENGIE Asia-Pacific, we are a fast-growing team of over 2,000 employees with presence in Singapore, Malaysia, Thailand and the Philippines to provide tailor-made integrated solutions for our customers in commercial buildings, industries, and cities.
Using globally leading technologies, we create innovative energy and smart solutions that enhance the performance of homes, business, community, and make the world a better place. We act throughout the value chain: strategy, design, engineering, energy-efficient asset construction, digital platforms, operations management, financing syndication and outcome assurance.
For more information, please visit us at https://www.engie-sea.com/