Companies news
Looking at networking through different generation's lenses can reveal some surprising perspectives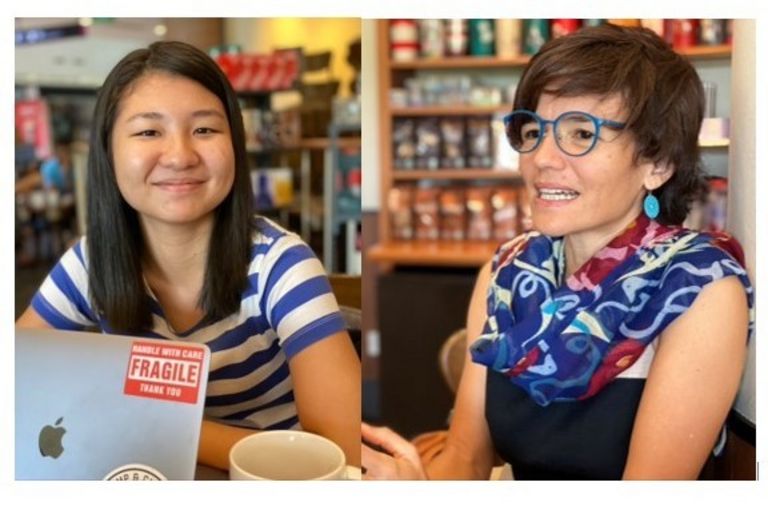 In this interview with Emma Noguchi (Managing Director of Coaching GoWhere and Associate Consultant at Transform Your Conversations) and 'Zoom-er' Lydia Chen, co-founder of Transform Your Conversations, Don Rapley, digs deeper into how they both approach networking events and networking conversations.
So Emma, an off-the-wall question for you to kick off, why do you bother to network and why do you think it's important to meet new people?
I enjoy connecting with people and getting to know them through a good handshake and a nice, 'feel good' conversation with a glass and some canapes perhaps, in a conducive setting. So I used to attend a lot of networking events organized by business associations, chambers, etc.
Through these in-person meet-ups, I would exchange business cards or telephone numbers and then follow up a few days later. Most of my clients I have met through an event we both attended.
Today with no more physical events, I find it challenging to meet new people or new prospects. A lot of online events are being organized and I suppose we could still connect well even through a screen. Yet a part of me still believe nothing replaces the real 'handshake'
And Lydia, as a new uni student, what's your take on networking and why is it useful for you and what can you learn?
To set the context of how networking can feel from the perspective of young professionals/uni students: Usually in school, you don't get much experience of intentionally putting ourselves out there. We are sometimes restricted by the culture and environment we grow up in and may even be discouraged from being "open" about our capabilities. No one tells us about networking, so you have to figure it out on your own or with your friends….it's a daunting experience, so it's easy to end up sticking to the stereotypes of networking.
The core benefits of networking we're all familiar with: business skills, self-confidence and social skills. But something we tend to overlook is that networking helps you to recognise the value you can bring to others that you may not have been aware of. It reminds me of a quote from Derek Sivers – "What is obvious to you is amazing to others".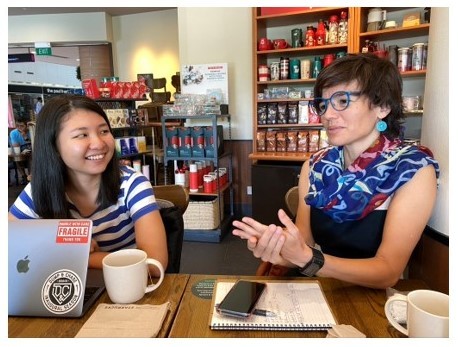 Emma, what is your mindset as you prepare to go to a networking event?
I would look forward to 'having a good time' meeting new friends I have not met yet, and that was enough to motivate me.
Some of the events are organized in nice venues such as clubs, high end hotels or rooftops which I find interesting to visit. It's a way to get out of the 'routine' to be in a new environment. I have a curious mindset about the people I am going to meet and the topics shared by the speaker, if there is a conference/ keynote speaker. I always look forward to learning something new, while making new business connections.
So Lydia, what do you look forward to when you get to "put yourself out there" at an event?
I agree with Emma's point about tuning your mindset towards meeting new people! For me, I used to encounter the expectation (but more like a trap) of thinking that you have to come out having made great friends with everyone for it to be a "good" conversation, but that's not true.
It's the same as with making acquaintances in any other context; there will be some people you gravitate more towards. At the end of the day it's about having initiated that connection and engaged with someone, and following up with them afterwards if you'd like to :)
I like to see networking as an adult/professional-life way of meeting new people, so I really look forward to that social aspect, and of course it's a bonus if you hit it off with a business connection when you're just starting out.
It seems like preparation is important to get the most out of an event…Emma can you share with us how you prepare?
If possible I try to look at the attendees list and identify people I want to meet as a priority and do some research about their company or their sector. I find it useful to prepare some 'talking points' with a little research done beforehand to make the conversation relevant and useful.
As I see myself as an introvert, I know I need to put more effort to 'boost' my energy and wear an outgoing 'smile' to initiate contacts at an event. At times I would rather stay in a corner and be on my own, so I consciously put a social sleeve on my mind to be in the right mindset!
And Lydia what do you do to prepare and what do you find challenging in these professional events?
Your pitch (AKA answer to "What do you do?") is another standard thing you can prepare – I try to make mine interesting and easy for talking points to come out in a conversation.
I think it's important to be aware of your mindset towards the networking conversation. It's sometimes difficult to be as authentic as you would like to be at these events. Not because anyone is "fake" but it's second nature to so many of us that we subconsciously tend towards certain conversation points or responses when speaking to new people, especially when it's a professional event.
My tip is to prepare yourself to be authentic and keep yourself in this mindset! For me, authenticity is giving credibility to your first thought, as long as it's not an abrasive one, and avoiding defaulting to canned responses!
Do you have any final tips or suggestions to make your networking successful?
Emma: Yes, here's one: If you find yourself stuck talking to one person and you would rather go and meet other people, it's OK to gracefully say "Let me network with others before the event ends, nice meeting you" and move on. We all implicitly know we are here to make new contacts so it's ok to be upfront about it.
Now that networking events are online, we are usually paired with others for a few minutes in a 'virtual' room and then we switch automatically, so that's easier to manage.
Another tip I would have is…."Just relax" or "Keep calm and carry on" it's just a networking and one should be relaxed and have fun. That's the most important.
Lydia: Remember to listen! It's ultimately an exchange between the both of you, so be present, listen to understand, not to speak, and trust that you will have your time to speak. The other person can tell off the bat when you're interested in their sharing, and they'd feel truly valued from that interaction.
Inter-generational and inter-cultural interactions add another dimension of fun too, but that difference can also be a mental barrier. Have a few good opening questions on hand – What's your story? Where are you from? – to get both sides sharing could prove super rewarding and interesting.
And when it's your time to share, bring your own stories! It's always great fun to exchange a good story, and it keeps the conversation going!