Companies news
Maritime Port and Authority Singapore (MPA) Takes Delivery of 35M Dual Fuel LNG-Diesel Hybrid Hydrographic Survey Boat, MATA IKAN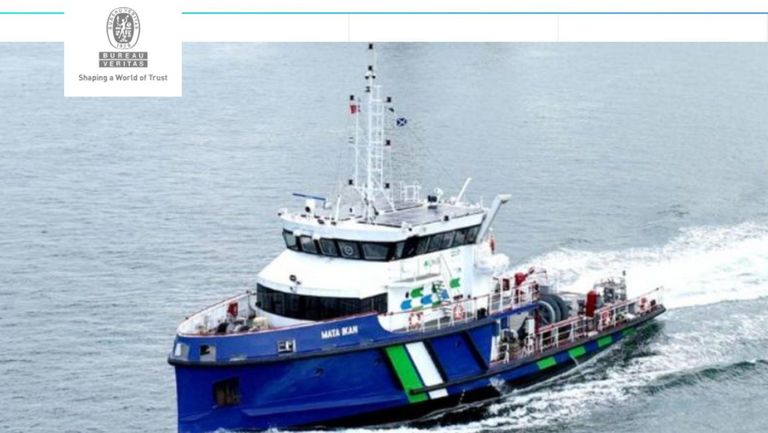 The maritime industry rapidly embrace sustainability and take bold steps to reduce its carbon footprint, 'Mata Ikan' is built by Lita Ocean Pte Ltd
Singapore, August 30 2023 – With the maritime industry rapidly embracing sustainability and taking bold steps to reduce its carbon footprint, 'Mata Ikan' is a 35 meter Dual Fuel LNG-Diesel Hybrid Hydrographic Vessel built by Lita Ocean Pte Ltd, designed by SeaTech Solutions International Pte Ltd and classed to Bureau Veritas for the Maritime & Port Authority of Singapore.
This next generation Hydrographic Vessel (NGHV) can use both liquefied natural gas (LNG) and conventional diesel as fuel. Using its controllable pitch propellers, it is designed for a maximum speed of 15 knots at 85% MCR and for efficient slow survey speeds of 5-6 knots. The vessel is also equipped with shaft generators which increase overall efficiency. Solar panels are installed on the top of the wheelhouse and a battery system provides additional clean renewable energy for the vessel's domestic electrical consumption.

The NGHV boasts state-of-the-art design features. Its hull form has been optimized to reduce resistance and improve seakeeping using Computational Fluid Dynamics (CFD). The design was further verified through model tests in Europe, ensuring the vessel meets the highest standards of efficiency and environmental sustainability.

Bureau Veritas' Singaporean clients started their LNG fueled journeys in 2019 with the introduction of the first LNG dual-fuel oil tanker, followed by a pair of LNG dual-fuel tugs. This first LNG dual-fuel hydrographic vessel is the latest milestone. The vessel adheres fully to the IMO IGF code and BV Rule Note NR529, with its design approved by BV Singapore Plan Approval Office and surveyed by the BV Singapore New Construction team.

BV Solutions Marine & Offshore (BVS M&O), the technical advisory component of Bureau Veritas Group, played a pivotal role in ensuring the success of this project. They conducted and facilitated a Hazard Identification (HAZID) workshop involving all key stakeholders, including the Maritime and Port Authority of Singapore (MPA). Additionally, BVS M&O performed gas dispersion analysis utilizing advanced CFD simulation, helping ensure the safety of the vent mast design for both vessel operation and the crew on board.
Mata Ikan highlights the practical application of green propulsion technologies and design principles in the maritime industry. Sustainability is an increasingly important issue in the global community, and the maritime industry is rising to the challenge by embracing new technologies that will help reduce the industry's environmental impact.
SOURCE: BUREAU VERITAS