Event report
Meet The CEO #25 ENGIE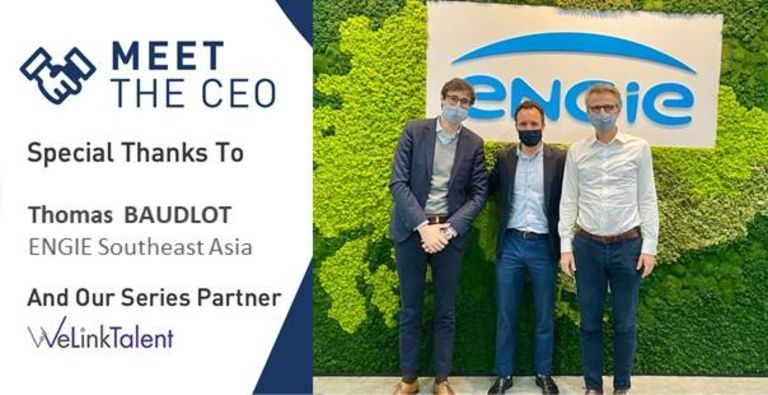 Thank you Thomas BAUDLOT, Chief Executive Officer at ENGIE Southeast Asia, for leading our September 2021 session of Meet The CEO. Thomas met with 6 start-ups & SMEs selected according to his business relevance over an afternoon of 30-minute 1-to-1 meetings.
Thank you Thomas for selecting these start-ups, entrepreneurs and SMEs and giving them the opportunity to meet with you and introduce their business:
Matthieu Le Gall, AKUO ENERGY PACIFIC
Brice Degeyter, BIZSU
Zhao Ki So and Raymond Tam, TEAMWORK
Gildas Coldeboeuf and Pierre Nowacki, ARTASI en collaboration with LENOVO
Jacques Pickering, PICKERING PACIFIC
Christelle Tilhac, INETUM SINGAPORE
Thanks also to Bert DEPREST, Melissa LOKE, Chai Soon TAN, James JIAN, Rayson SIA, Zann CHUA, Jean-Baptiste DREANIC.
With special thanks to our Series Partner, WeLinkTalent | Recruitment Innovation, sponsor of one of our dedicated French Chamber of Commerce in Singapore's Startups and Entrepreneurs programmes to encourage innovation and cultivate entrepreneurial spirit within the business community.
***
Meet The CEO is a monthly initiative of the French Chamber in Singapore that provides opportunities for start-ups and SMEs to connect with a CEO of a large company. Find out more here about our Startup and Entrepreneurs Program, please email Amelie Poumaer or visit https://bit.ly/3HjbKaK