Event report
Meet The CEO #26 DRAGAGES SINGAPORE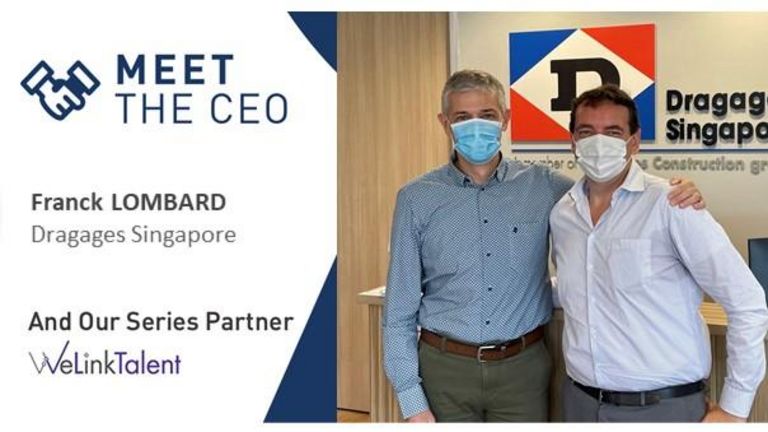 Thank you Franck LOMBARD, Managing Director at Dragages Singapore, for leading our November 2021 session of Meet The CEO. Franck met with 6 start-ups & SMEs selected according to his business relevance over an afternoon of 30-minute 1-to-1 meetings.
Thank you Franck for selecting these start-ups, entrepreneurs and SMEs and giving them the opportunity to meet with you and introduce their business:
Alban MEDICI, Actility Singapore
Constance LAPARRA, AME Asia
Brice DEGEYTER, Bizsu
Jeanne MOUTERDE, ielo designs
Matthieu Guillou, Klaxoon
Nathalie Ribette, Sing'theatre
Thanks also to Antoine GONDARD, Corporate Services & South Asia Business Development Manager at Dragaes Singapore.
With special thanks to our Series Partner, WeLinkTalent | Recruitment Innovation, sponsor of one of our dedicated French Chamber of Commerce in Singapore's Startups and Entrepreneurs programmes to encourage innovation and cultivate entrepreneurial spirit within the business community.
***
Meet The CEO is a monthly initiative of the French Chamber in Singapore that provides opportunities for start-ups and SMEs to connect with a CEO of a large company. Find out more here about our Startup and Entrepreneurs Program, please email Amelie Poumaer or visit https://bit.ly/3HjbKaK