Event report
Meet the CEO #33 LEGRAND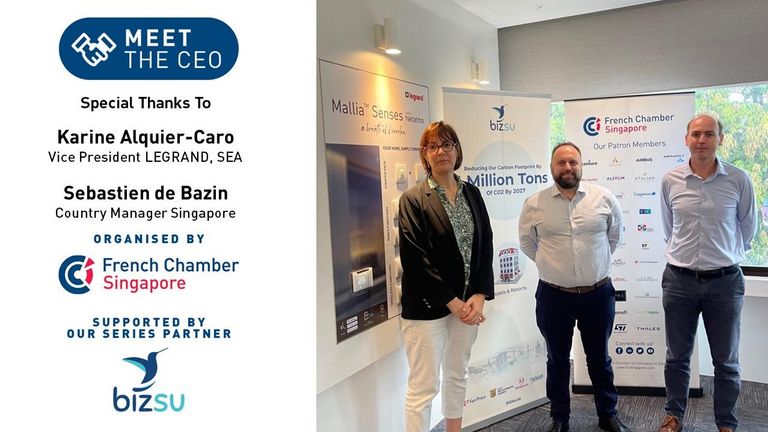 A warm thank you to Karine Alquier-Caro, Vice President LEGRAND, SEA who was our CEO of the month, and to Mr. Sebastien de Bazin, Country Manager Singapore for leading this session.
During our MEET THE CEO session, Karine and Sebastien met with six start-ups, entrepreneurs, and SMEs in one-on-one sessions, exchanging with them best practices, insights, and potential synergies.
Arnaud Liotta, Founder CEO Xalnia
Axel de Robillard, Managind Director Plurium Technologies
Erwan Bodescot, CEO & Co-Founder Augmenteed
Gildas Coldeboeuf, CEO APAC Artasi
Laurent Fabry, Managing Director DGCT
Jean- Louis Cadart, Head of Asia WeGrow
With special thanks to our Series Partner, Bizsu, sponsor of MEET THE CEO, an initiative of the French Chamber of Commerce in Singapore that provides opportunities for start-ups and SMEs to connect with a CEO of a large company.
Want to know more about the MEET THE CEO program? Please contact Agate Wack awack@fccsingapore.com