Event report
Meet the CEO #36 SOCOMEC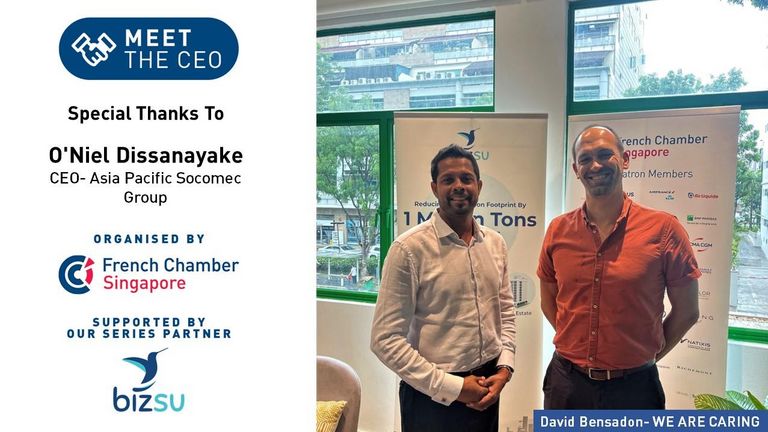 A warm thank you to O'Niel DISSANAYAKE, CEO Asia Pacific Socomec Group, who was our CEO of the month.
During our MEET THE CEO session, O'Niel met with six start-ups, entrepreneurs, and SMEs in one-on-one sessions, exchanging with them best practices, insights, and potential synergies.
David BENSADON, Director WE ARE CARING
Nathalie RISTEAU, Director SG SOLAR HOME
Gildas COLDEBOEUF, CEO APAC ARTASI
Julie LE PAGE, Chief Representative APAC KINÉIS
Jean-Louis CADART, Head of Asia WEGROW
Alex LEROUX, MD Asia SIGHTCALL
With special thanks to our Series Partner, Bizsu, sponsor of MEET THE CEO, an initiative of the French Chamber of Commerce in Singapore that provides opportunities for start-ups and SMEs to connect with a CEO of a large company.
Want to know more about the MEET THE CEO program? Please contact Agate Wack awack@fccsingapore.com