Actualités • COVID-19 • Communication - Press
[February 28, 2020] Message from the French Chamber Board on COVID-19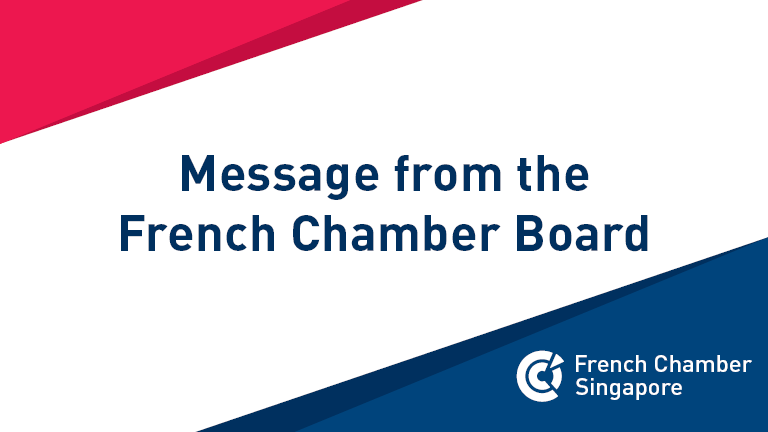 Singapore, February 28, 2020 - It has been now nearly three weeks since the Government of Singapore raised its alert level to orange, in consideration of the local community outbreaks of Covid-19 that we saw occurring then in the country.
As a result, many of us triggered specific measures, in line with the recommendations of the Ministry of Health, as well as our respective company policies. For many of us, it has implied invoking Business Continuity Planning, working under split operations, including work from home, and reducing business trips to the strict minimum.
Since then we observe that for the past 10 days the situation in Singapore has well stabilized, with the slight increase of new cases more than offset by the numbers of cases discharged from hospital. This is in great part due to the very protective steps taken by the Singapore government to control the situation. We also take comfort in the high level of transparency provided by the government, through its various public communication channels, as well as direct dialogue with various representative of the industry, including the foreign chambers of commerce. We also do note that Singapore has been recognized internationally, by WHO and others, for its very high standards and results in dealing with this situation.
The fear of a "second wave" originating from the more global spread of Covid-19 that we saw in the past week may lead the government to maintain its strict control policy for the weeks to come. This will continue to bring operational and financial stress to many of our members. Here too, in its recent budget announcement, we saw clear evidence of the acknowledgment from the government of the impact of the crisis on the business community, and are confident that some of the measures announced will help business owners to ease the current situation.
As a representative of the French business community in Singapore, the French Chamber of Commerce in Singapore confirms its strong support and confidence in the protective actions taken by the government, and trust that the country will rebound strongly once this difficult period is passed.
In the meantime, please do share with us any specific issue that you may encounter and where you think we could help.
Please refer to our COVID-19 Advisory for current updates: https://www.fccsingapore.com/news/n/news/coronavirus-advisory.html
Pascal LAMBERT
President