Event report
Minister Chan Chun Sing and French Chamber Patron members meet at a closed-door dialogue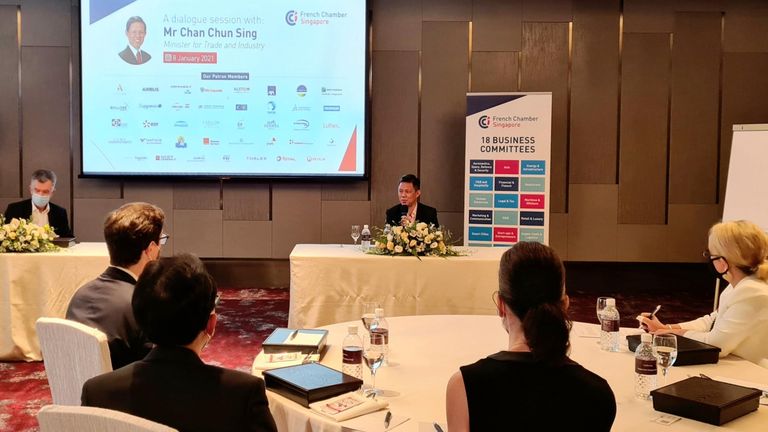 On 8th January 2021, the French Chamber hosted its first physical event of the year – a closed-door dialogue between Minister Chan Chun Sing, Minister for Trade and Industry, French Chamber Patron members and Board representatives.
During the session, our members from different industries ( Construction, Energy, Logistics, Maritime, Retail, Healthcare, F&B etc.) shared their companies' experience during the pandemic, and posed questions about what to expect for the economy and how to further advise their business organizations, going forward in 2021.
Minister Chan Chun Sing gave the assurance that Singapore will continue to carefully plan for a safe and sustainable approach to resume economic activities in a safe and responsible way, such as hosting the World Economic Forum in May. He also commented on the vaccination program and schedule, ongoing discussions with Asian countries on feasible green lanes, remote working for Singapore-based companies, as well as topics on Sustainability and Innovation. The Minister also stressed that French-established companies are part of the 'Singapore family' and are fundamental to Singapore's economy.
We are delighted to start the year with such an insightful event, and the French Chamber expresses our sincere gratitude to Minister Chan Chun Sing for taking part in this important dialogue.