Publications
MND's Urban Ropeway of Saint Denis La Reunion redefines urban sustainable mobility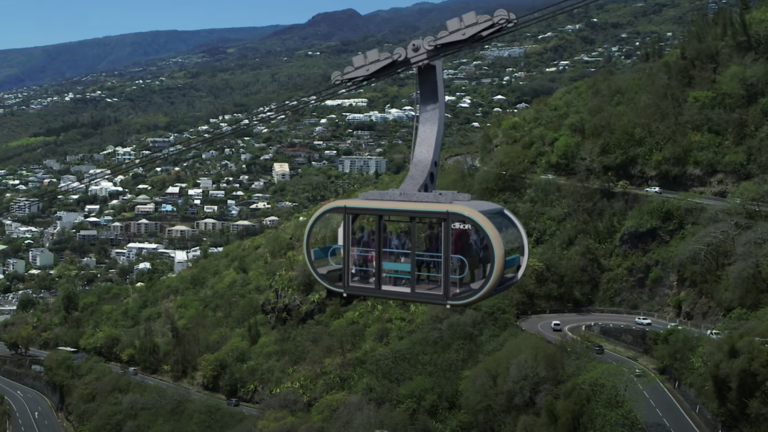 Supported by CINOR, La Montagne cable car is the city's next urban public transport that will:
Ease the commute for inhabitants from the La Montagne district to the Bellepierre district in the center of Saint-Denis on Reunion Island
Relieve congestion on the western access road to Saint-Denis via La Montagne (D41) used daily by 12,000 vehicles
Strengthen the influence and attractiveness of this district, through a highly accessible transportation mode
AN ICONIC, SILENT AND INNOVATIVE URBAN ROPEWAYS

La Montagne's urban aerial tramway uses state-of-the-art technologies and a sleek and smooth cabin design.

The system chosen is a jig-back reversible system with a 16-meter-wide track for high wind resistance (up to 120 km/h). Thanks to this technology, cabins can travel at speeds up to 45 km/h.

The two uniquely designed 50-seater cabins will have wall-to-wall, high-performance, UV-protection window glazing and provide unrivaled comfort to users who will be able to enjoy a 360° panoramic view of Saint-Denis and its fabulous surroundings.

Installed on The Vigie station building, the 600 m2 of photovoltaic panels will produce the equivalent of 92% of the installation's annual electricity consumption.
A ROPEWAYS THAT PRODUCE THE EQUIVALENT OF 92% OF THE ITS ENERGY NEEDS THANKS TO THE SUN

The ropeway has been designed for seamless natural integration, neutralize the individual carbon footprint and contribute to a significant reduction in CO2 emissions.

La Montagne urban ropeway is thought to respect the biodiversity of the protected flora and fauna area it flies over. Beyond the top and bottom stations, only one pylon will be installed near the Hospital station, thus minimizing the project's impact on the environment.The height of the rope was specifically designed to avoid interfering with bird flight.
For more information, visit www.mnd.com.
Urban Ropeway of Saint Denis La Réunion | MND