Event report • Events • Exceptional event
Past Event| A fruitful 4th Edition at Asia Startup Summit 2022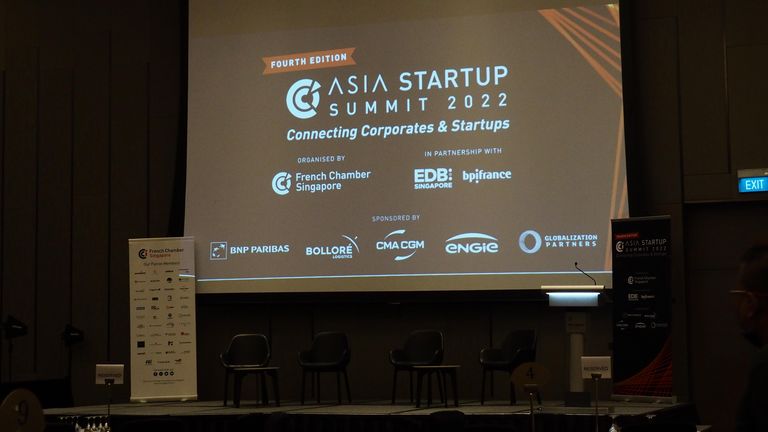 Presented by the French Chamber of Singapore in partnership with Singapore Economic Development Board (EDB), Bpifrance and La French Tech, the Asia Startup Summit 2022 welcomed over 160 participants in person and on-line with more than 180 B2B meetings followed by a networking session.
This year's thematic gathered panelists around 2 roundtables on "How ESG & Tech drive the markets in 2022 and beyond". After the panel discussions, the delegates engaged in B2B meetings.
Thank you to our speakers in the following order:
Opening Remarks
HE Marc Abensour, Ambassador of France to Singapore
Alberenee Sim, Regional Vice President (Europe), Singapore Global Network, Economic Development Board (EDB)
Thomas Baudlot, President of the French Chamber in Singapore
First Round Table: Energy transition – Low carbon energy solutions and tech through cross-sectorial collaboration
Shilpa Gulrajani, Head of Corporate Development and Sustainability APAC at BNP Paribas;
François-Xavier Accard, Managing Director at CMA CGM International Shipping Company;
Sujay Malve , CEO at Canopy Power Pte Ltd
Moderated by Pierre Lelong, Director at Enea Consulting
Second Round Table: Circular Economy -Tech solutions to reuse, recycle and eliminate waste
Ingrid Caes, Sustainability Manager at Bolloré Logistics
Zach Wilson, Managing Director at AlfaTech
Rémi Cesaro, Founder and CEO at Zero Waste City
Moderated by David Hollander, Partner at Sia Partners
Closing Remarks
Charles H. Ferguson, General Manager, Asia Pacific, Globalization Partners
We would like to thank our kind sponsors BNP Paribas, Bolloré Logistics, CMA CGM, Globalization Partners, and ENGIE South East Asia. Livestreaming was powered by Imavox.
Thank you to all our participating companies for your support and we wish you continued success!
Watch the highlights of our 4th edition:
View the summary of the Asia Startup Summit 2022 in the images below:
Testimonials
Emenda! - Matthieu TISSERAND, MEP Project Manager
Thank you for organizing this Asian Start Up Summit which, I think, was unanimous among the participants. It would be difficult for me to find negative points to this event, we might have wanted a wider B to B meeting slot, when you love you always want more. I made great connections, I hope now to convert them!
BNP – Dorothy WU, Head of Corporates Segment / Global Banking Brand and Communications, APAC
Congrats on a very successful event yesterday!
Bolloré - Matthieu GAONACH, General Manager Sales & Marketing
Congratulations to the FCCS team for this summit. Lena, Nick and Ingrid can confirm that we had fruitful meetings and talks.
Globalization Partners - Deon Lim, Partner Marketing Manager
Thank you so much for the Asia Startup Summit, heard from Charles that it was a successful event and he enjoyed himself
From all ENGIE teams well done for a particularly successful event