Event report
Past Event | Breakfast talk - Electrifying Singapore: The accelerated rollout of electric vehicles and smart charging infrastructure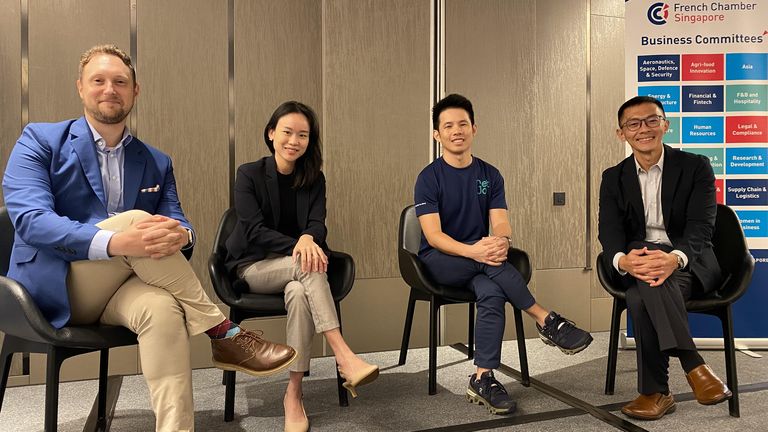 The French Chamber of Commerce in Singapore would like to express our sincere thank you to Paul Welsford – Head of Business Development at ComfortDelGro ENGIE, Yong Xian Lim - Senior Manager/EV Regulations at National Electric Vehicle Centre (NEVC) -LTA, Ting Feng Toh - CEO & Co-founder at GetGo Technologies and Ray Ong - Head of Channel management and Distribution business at Schneider Electric for hosting this insightful discussion on the Electrification of Singapore. A comprehensive overview of the Electric Vehicles and smart charging infrastructure rollout in Singapore.
Please find below the key takeaways of the session:
The panel emphasized the interdependency of electric vehicles (EVs) and smart charging infrastructure. As more EVs hit the roads, the demand for convenient and accessible charging points increases. Simultaneously, the availability of charging infrastructure is necessary to encourage EV adoption.
It is encouraging to learn that EV adoption has been steadily increasing, even in the face of rising COE fees. This demonstrates a growing awareness among individuals and organizations about the benefits of electric vehicles in terms of both cost savings and convenience.
CDG ENGIE shared their progress in deploying charging infrastructure. They aim to reach 1000 charging points by the end of December 2023.
GetGo highlighted the need for a tandem approach, emphasizing the correlation between EV adoption and the availability of charging points. Easy access and cost considerations were identified as crucial factors for individuals to embrace EVs fully. Collaborative efforts are essential to ensure the deployment of charging points is aligned with the increasing demand.
As cost remains an obstacle for many potential EV users, education emerged as a critical component to accelerate adoption, especially among fleet and car-sharing users.
CDG ENGIE emphasized the importance of considering charging time and lifestyle preferences. Alternating Current (AC) charging is a more viable option for personal vehicles , when vehicles are parked overnight in residential carparks, and daytime charging at office carparks. In contrast, fleets and logistic EVs require quicker and more efficient charging solutions to minimize downtime and maximize productivity.
The panel unanimously agreed that collaboration between partners and charging point operators is crucial for accelerating EV adoption. By working together, stakeholders can create a seamless experience for EV users, enabling convenient access to charging infrastructure across the city.
In addition to partnerships within the charging ecosystem, collaboration with Original Equipment Manufacturers (OEMs) was highlighted as essential. By facilitating data exchange and mass customization, we can bridge the gap between the digital and physical aspects of EV adoption, enhancing the overall user experience.
Lastly, the discussion emphasized the need for interconnected systems to enable seamless integration between charging APP, infrastructure, EVs, and other smart city components.
For more information, please contact Alice Boulard aboulard(@)fccsingapore.com
Access the speakers' presentation (members only)