Webinar • Event report • Committees
Past Event| How to Drive Growth by Scaling Your Best Practices?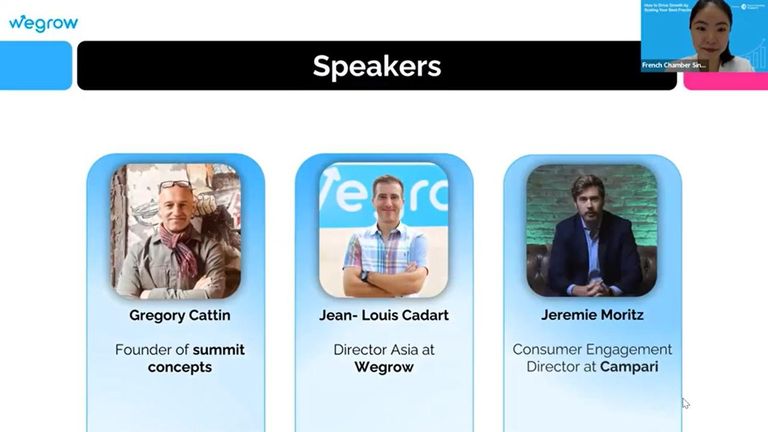 Thank you so much to Mr. Gregory Cattin, Director at Summit Concepts; Mr. Jean-Louis Cadart, Director Asia at Wegrow and Mr. Jeremie Moritz, Consumer Engagement Director at Campari for a fun and inspirational webinar session. During the session, our speakers shared interesting case studies on the recurring issues across and their impact on the companies; why sharing best practices within the organisation is key to driving growth and presented potential ways that can help companies to avoid reinventing the wheel and increase margin.
Watch the replay to find out more about these points:
4 challenges preventing best practices sharing
Best Practices are scalable, profitable and sustainable
3 key challenges WEGROW fix for the clients
3 steps: Spot – Select – Scale
3 benefits: High Quality Posts – High Contribution – Measure ROI
Experience by Campari – KPIs and Results
This event is kindly sponsored by WEGROW and powered by the French Chamber of Commerce.
Access the presentation and video (members only)