Event report • Webinar
Past Event | Jobseeker Webinar - Understanding Job Hunting in Singapore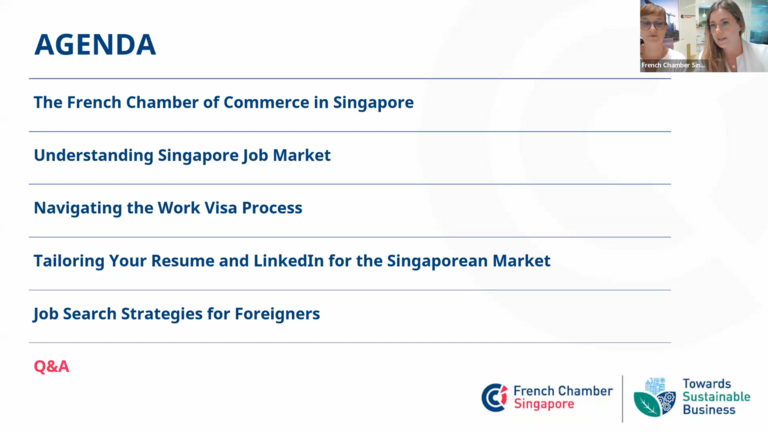 On June 13th, the Recruitment and HR Services Team of the French Chamber of Commerce in Singapore organised a very successful Jobseeker webinar.
The goal was to provide the participants the essential tools and strategies needed to navigate the local job market successfully.
The event covered the following key areas:
Understanding the Singapore Job Market: attendees gained access to insider knowledge and up-to-date trends that can give them a competitive edge.
Navigating Work Visa Procedures: the webinar highlighted the essential steps and guidelines for work visa requirements and procedures for foreign professionals in Singapore.
𝗧𝗮𝗶𝗹𝗼𝗿𝗶𝗻𝗴 𝗖𝗩 𝗮𝗻𝗱 𝗟𝗶𝗻𝗸𝗲𝗱𝗜𝗻 profile: attendees learned effective strategies to showcase their skills, experiences, and achievements in a compelling manner, and to captivate employers with a tailored and irresistible professional profile.
Job Search Strategies for foreigners: participants learned about innovative job search methods, leveraging both online and offline resources, and leveraging networking platforms to expand their professional connections.
The session was also an excellent opportunity for the jobseekers to engage with the team and discuss how the French Chamber can assist them in their search.
For more information, please contact Anne-Laure Poiré alpoire(@)fccsingapore.com or Virginie Laurent vlaurent(@)fccsingapore.com