Event report
Past Event | Supply Chain Symposium 2023 - Fortifying Supply Chains in a Volatile Environment: The Path to Resilience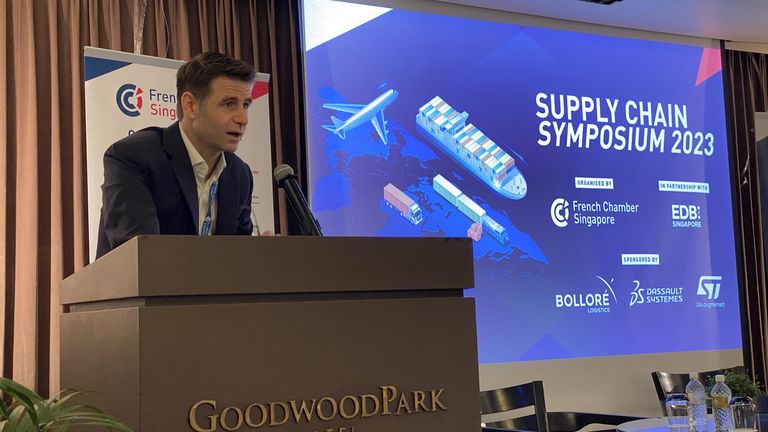 The French Chamber of Commerce in Singapore, in partnership with the Economic Development Board (EDB) organised the 4th edition of Supply Chain Symposium 2023 and welcomed over 100 participants at Goodwood Park Hotel.
This 4th edition started with introductory remarks by Mr. Dave Goh, Acting Vice President, Strategy (Hub Services & Connectivity) at EDB, and continued with two enlightening roundtable discussions among experts from the supply chain and logistics industry. They shared their perspectives regarding the challenges that the industry is facing, especially with the geopolitical, macroeconomics, and sourcing risks in the post-pandemic world; and how to build a resilient supply chain in the region with the implementation of technology and the importance of ESG, etc.
Thank you very much to our speakers in the following order:
Opening Remarks:
Mr. Grégoire Sauvé, Supply Chain Director APAC at LVMH Perfumes & Cosmetics, Co-president of the Supply Chain and Logistics Committee
Mr. Dave Goh, Acting Vice President, Strategy (Hub Services & Connectivity) at EDB
1st Panel Discussion:
Mr. Frederic Gomer – Managing Partner at B2G Consulting
Mrs. Priti Jauhari – Vice President - Global Transformation Planning at Schneider Electric
Mr. Philippe Poussier – Director, Outsourcing Supply Chain & Operations at STMicroelectronics
Moderated by Mr. Peter Liddell – Global Head of Supply Chain at KPMG Australia
2nd Panel Discussion:
Mr. Olivier Boccara – CEO Asia Pacific at Bolloré Logistics
Mr. George Chen – Senior Business Development Manager at Dassault Systèmes
Mrs. Béatrice Ogée – International Group Sales & Marketing Director at FM Logistic
Moderated by Mr. David Hollander, Partner at Sia Partners
Closing Remarks
Mr. Ludovic Sichère, Co-president of the Supply Chain and Logistics Committee at the French Chamber of Commerce in Singapore (FCCS).
Thank you to our sponsors Bolloré Logistics, Dassault Systemes, and STMicroelectronics for their kind support.
Special thanks to our co-presidents of the Supply Chain & Logistics Committee: Ellen Hudreaux, Grégoire Sauvé, and Ludovic Sichère for their engagement and support throughout the preparation of the Symposium.
Key Takeaways from Mr. Ludovic Sichere, co-president of the Supply Chain and Logistics Committee at the FCCS.
Supply Chain was all over the news for 2 years because we could not move products that everyone needed, and the costs of transportation surged.
Supply Chain is again at the forefront: most products have arrived at their destination, but the demand has changed: downturn, behavioral change, geopolitical risks... Many warehouses are full of products produced when costs were high (due to energy and transportation costs). We have a pile of cash sitting in our warehouses at a time of high interest rates, i.e., when cash is king.
So what is next?
Review your supply chain set-up and do it in a structured manner (global? China+1? SEA? Regional? Multi-sourcing?)
We don't talk about blockchain any longer, and one of the main reasons is the lack of standard data across value chains. More than ever, having structured and shared data is a key success factor for any digital transformation.
Invest in new tools. There are plenty, make sure that it suits your needs, and don't forget that the team's capability to use new digital tools is a challenge, especially in the Supply Chain environment.
Build a more regional/country-focused supply chain (but you will need local demand for your products).
As we were in firefighting mode during Covid, ESG was put slightly aside. Let's hope that the focus on ESG will come back even stronger than before in APAC.
Join EDB for their first ever Singapore Supply Chain event titled 'Singapore – Leading Supply Chain Management Hub in Asia', taking place on the morning of 10th July 2023. To register, please click here.
For more information, please contact Lydia Fulton lfulton(@)fccsingapore.com and Emily Jiang ejiang(@)fccsingapore.com
Access the Speakers' Presentation (Members Only)
Watch the highlights of the 4th edition :
View the summary of the Supply Chain Symposium 2023 in the images below: