Event report
Past Event| The Semiconductor Challenge Amid Geopolitical Tensions: Navigating Disruptions and Ensuring Resilience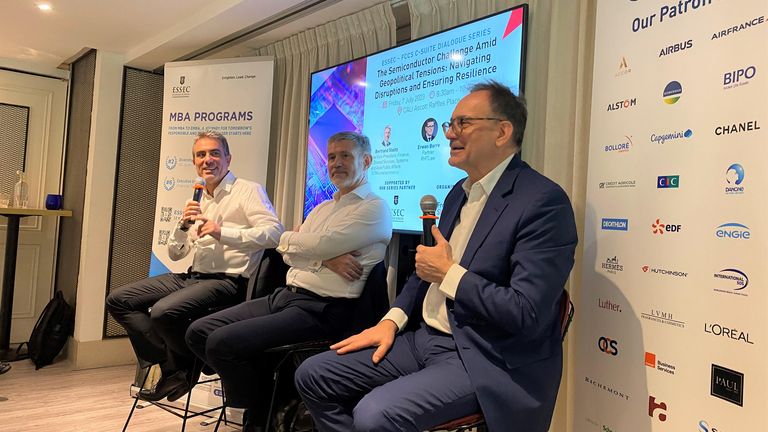 Thank you to our esteemed speakers – Mr Bertrand Stoltz, Executive Vice-President, Finance, Global Shared Services, Systems and Asia Public Affairs at STMicroelectronics, Mr. Erwan Barre, Partner at RHTLaw and moderator Prof. Cedomir Nestorovic from ESSEC Business School, for facilitating this informative discussion about the challenges and opportunities facing the semiconductor industry.
Highlights and Key Learnings:
Political implications and national security: The semiconductor industry is heavily influenced by geopolitical tensions, with the US launching the Chip Act and investing significantly, followed by similar initiatives in Korea and Japan. The semiconductor industry's challenges have significant financial implications and are considered a national security issue due to its role in advanced technologies.
Sanctions and restrictions: The US has been imposing sanctions and restrictions, including boycotts, affecting the semiconductor industry. This has resulted in China suffering from boycotts by the US and other countries, such as the Netherlands limiting Chinese access to certain technologies.
Chinese ambitions and dependence: China has ambitions in the semiconductor domain but still relies on Western countries for advanced technology.
Impact on all players: The tensions and disruptions in the semiconductor industry affect all players involved, and new sanctions imposed on very advanced technologies. Transactions and licenses are closely monitored, and there are concerns regarding legal IP issues and restrictions on Chinese investment in the US.
Decoupling and costs: The concept of decoupling, where countries establish their semiconductor industry to reduce dependence, could impact costs in the industry. However, setting up the industry in a new country requires a supportive ecosystem, including engineering and education.
Micron and TCMC: Micron is banned in China, indicating the extent of the geopolitical tensions. TCMC, a Taiwanese company, faces challenges as producing in the US is expensive, with the US urging production to be shifted there. TCMC owns 90% of the most advanced technology in the world, highlighting the industry's concentration.
Protecting the industry: It is essential to protect the semiconductor industry, and exit scenarios should be considered. Legal protection is necessary to navigate the challenges faced by the industry.
This event was kindly supported by our series partner ESSEC Business School.
For more information, please contact Vanessa Hobbs vhobbs@fccsingapore.com