Event report
Past Event | Unleashing the Potential of Distributed Solar for A Sustainable Future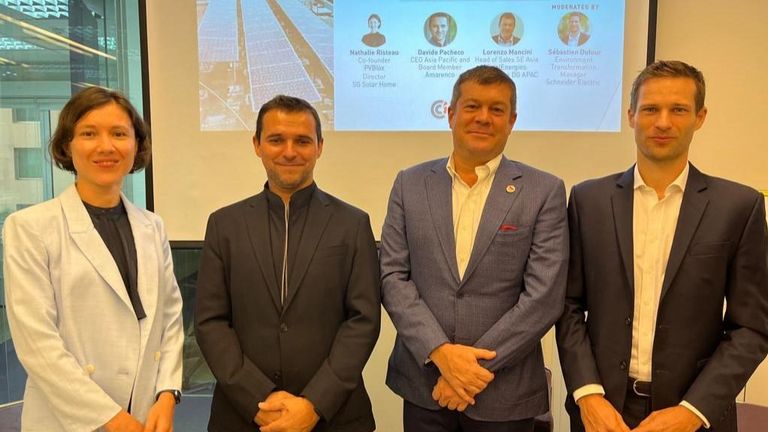 What are the main strategies for harnessing the potential of distributed solar energy to promote a sustainable future?
In our last Committee Meeting, our esteemed speakers Mrs. Nathalie Risteau, Co-founder at PVBlox and Director at SG Solar Home , Mr. Davide Pacheco, CEO Asia Pacific and Board Member at Amarenco , Mr. Lorenzo Mancini, Head of Sales SE Asia at TotalEnergies Renewables DG APAC explored the transformative potential of distributed solar energy in combating climate change and shed light on solar power development in Singapore and in the region.
Key Takeaways from the session:
The Role of Distributed Solar in Achieving Sustainability: The event highlighted the critical role that distributed solar energy plays in achieving sustainability goals. It offers an environmentally friendly alternative to traditional energy sources, contributing significantly to reducing carbon footprints.
How Renewable Energy Developers are Embracing Distributed Solar: Attendees had the opportunity to learn about how renewable energy developers are embracing distributed solar solutions. These innovations are paving the way for a greener and more sustainable energy landscape.
Integration of Distributed Solar in Real Estate Development: Real estate professionals and enthusiasts gained insights into how distributed solar is seamlessly integrated into real estate development, promising energy-efficient and eco-friendly solutions.
This discussion was skillfully moderated by Mr. Sébastien Dufour, Environment Transformation Manager at Schneider Electric, and Co-president of the Sustainable Business Committee at the French Chamber of Commerce in Singapore.
Thank you to all participants, speakers, and moderator for their invaluable contributions.