Companies news
Safran Cabin Lamphun signs Power Purchase Agreement (PPA) for a 1.4 MW rooftop-based solar photovoltaic power plant with Constant Energy
Top row: Mr. Nanda K Kattavarjula (Program Lead / Director of SCM and Logistics), Mr. Jerry van Vive (CEO) and Lamphun team, Mr. Franck Constant (CEO of Constant Energy), Bottom row: Mr. Romain Maire (COO – CE), Mr. Tanapat Pongvanatsabodee (Business Development – CE), Mr. Akhil Jain (Olympus Capital)
Safran Cabin announces the execution of the first solar corporate PPA with Constant Energy. The project is a 1.4 MW solar rooftop located at the Safran Cabin Lamphun factories in the Northern Region industrial estate, in Thailand. This is the fifth PPA project of Constant Energy in the Northern Region. It will support Safran Cabin in reducing its carbon footprint (nearly 17,000 Tons over the PPA term) and reduce operating expenses thanks to a solar tariff substantially cheaper than the current utility.
Due to limited factory access during the COVID-19 pandemic situation in Thailand, an e-signing ceremony celebrated this new long-term partnership between Safran Cabin and Constant Energy. Olympus Capital – Constant Energy's shareholder – also joined the e-ceremony. There were 11 participants located in France, Thailand, India and Singapore.
Jerry van Vive, CEO of Safran Cabin Lamphun, commented:
"I want to thank our teams in taking the first major step towards sustainable and renewable energy and to help reduce our carbon footprint in Product Manufacturing. I feel very proud for all the work done by the teams to get us to this point. We also have a lot of responsibility as the first major site within Safran Cabin to implement this energy source and we want to make it a success and be inspirational to other sites."
In response to the climate challenge, Safran has undertaken to limit the greenhouse gas emissions of its operations, production sites and value chain. In 2021, Safran revised its low-carbon objectives with an even more ambitious target: a 30% reduction in CO2 emissions by 2025 compared to 2018. Programs are already in place in all of the Safran sites to meet these objectives, such as, for instance, lowering energy consumption, developing an Internal Carbon Price (ICP), which assigns a monetary value to harmful emissions, and using sustainable fuels for engine testing.
Franck Constant, CEO of Constant Energy said:
"We are very pleased and honored to be trusted by Safran Cabin, and to establish a long-term partnership with a premier industrial house for high-quality parts for galleys, catering, and cargo equipment business such as Safran Cabin Lamphun, which is an affiliate of Safran Cabin Group. We'd like to thank Safran Cabin's team for supporting this long journey and also our team for a great coordination. We look forward to provide clean and low-cost energy, and reducing Safran Cabin facilities' carbon footprints in a long-term basis."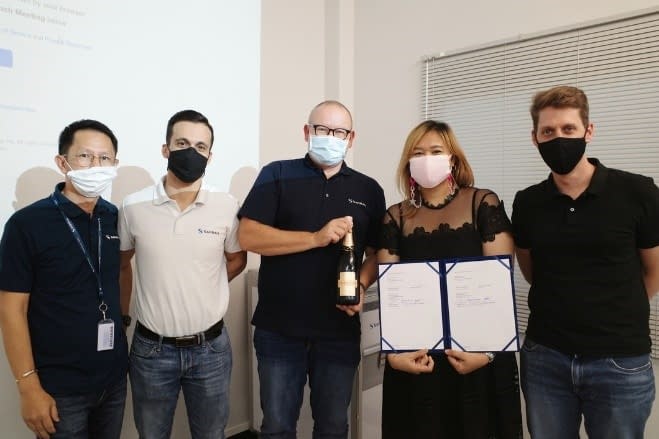 From left to right: Mr. Settakorn Sinnung (HR Director), Mr. Pablo Izquierdo (Operations Director), Mr. Jerry van Vive (CEO), Ms. Supawadee Thanusilp (CFO) and Mr. Julien Bonfils (Purchasing Manager)
About Safran Cabin Lamphun Ltd.
Safran Cabin Lamphun Ltd. manufactures a wide variety of aircraft catering equipment, built to the highest quality standards of the airline industry. As market leader, they supply all airlines in the world with trolleys, food containers, drawers, beverage makers, coffee makers, ovens, trash compactors & water boilers and other galley & electrical inserts.
Safran Cabin Lamphun is a subsidiary of Safran Cabin, headquartered in Huntington Beach in Southern California, operating 39 sites in 10 countries. Over 10,000 employees across the globe serve virtually all airlines, aircraft leasing companies and airframe manufacturers worldwide.
Safran Cabin's product portfolio also includes complete cabin interiors, cargo equipment, cabin management, environmental control and water & waste systems.
More information at https://www.safran-cabin.com/company
About Constant Energy
Constant Energy is a solar project developer and Independent Power Producer (IPP). We develop, design, finance, build, own and operate since 2012 large solar power plants under Feed-in-Tariff and Corporate PPA. Regionally headquartered in Bangkok, we operate in Asia with a primary focus in Southeast Asia. We produce clean electricity to our clients for the long term, enabling them to (i) reduce their CO2 emissions, (ii) reduce electricity bill, and (iii) increase profitability while they are focusing on their core business activities. In January 2020, Constant Energy raised growth capital from private investment firm Olympus Capital through its Asia Environmental Partners ("AEP") vehicle.
More information at www.constantenergy.net and http://www.olympuscap.com.