Companies news
TotalEnergies and Sembcorp form LNG supply partnership in Singapore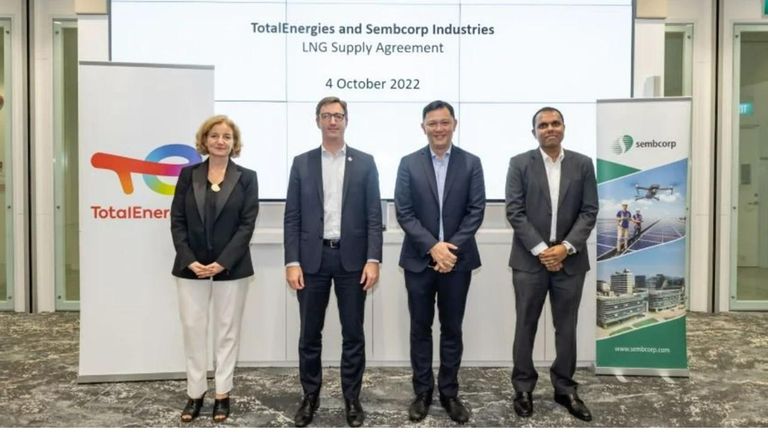 October 11, 2022
French energy giant TotalEnergies has partnered with Sembcorp Energy Singapore, an integrated energy and environmental services player, to import a liquefied natural gas (LNG) supply strip in Singapore.
The agreement will see Sembcorp import an LNG supply strip from TotalEnergie's global portfolio for five years starting in 2025.
"As LNG continues to play an important role in bridging the global energy transition, we are dedicated to working with Sembcorp to realize the transition", said TotatlEnergies in a social media update.
The new agreement follows the latest milestone in TotalEnergy's ambition to develop a global LNG bunker supply network and its commitment to support its shipping customers in their energy transition towards maritime decarbonisation.
To remind, TotalEnergies Marine Fuels held a naming ceremony for the Brassavola LNG bunker vessel in Singapore last week at Sembcorp Marine's Tuas Boulevard Yard, marking a step closer to commencing TotalEnergies' LNG bunkering services in Singapore.
The ship will be the largest LNG bunker vessel for use in service in the Port of Singapore with 116.5 metres in length and 22 metres in width and a capacity of 12,000 cubic metres. It is scheduled to be operational in the first quarter of 2023.
The development of LNG as a marine fuel is part of TotalEnergies' long-term efforts to develop multiple alternative, lower- and zero-carbon solutions, such as new, advanced biofuels, biomethane and green hydrogen-based fuels.
by Ajsa Habibic
Photo :Courtesy of Sembcorp Energy Singapore
SOURCE: OFFSHORE ENERGY