Webinar • Event report • Webinar
WEBINAIRE: Post-Covid, Singapour mise sur le secteur de la FinTech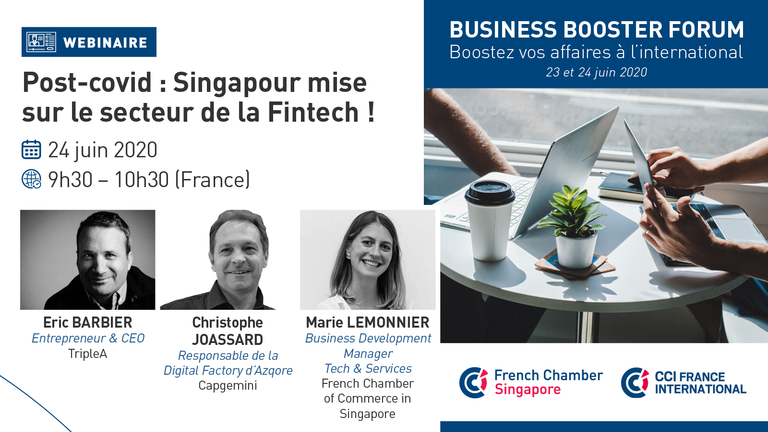 Le secteur banque et assurance contribue à près de 14 % du PIB national singapourien et connait une progression de 4,1 % en 2019.
Plus que jamais Singapour se positionne en tant que hub financier international avec un des systèmes bancaires numériques les plus avancés au monde.
Classé 4ème région mondiale de la FinTech, Singapour fournit à cet écosystème un des environnements les plus favorable au monde. En lançant un fonds de solidarité de 6 M de S$ à destination du secteur FinTech afin d'apporter son soutien pendant la période Covid-19, Singapour illustre sa volonté de se positionner en tant qu'acteur incontournable de la FinTech mondial.
Nos remerciements à nos intervenants Eric BARBIER - CEO de TripleA, Founder and former CEO of TransferTo (now Thunes et DT One) et Président chez PayTop, Christophe JOASSARD - Digital Partner pour Azqore et Marie LEMONNIER - Business Development Manager, Expert Tech & Services, French Chamber of Commerce in Singapore.