Event report
Webinar - Innovation and Digitalization of the Healthcare sector in South East Asia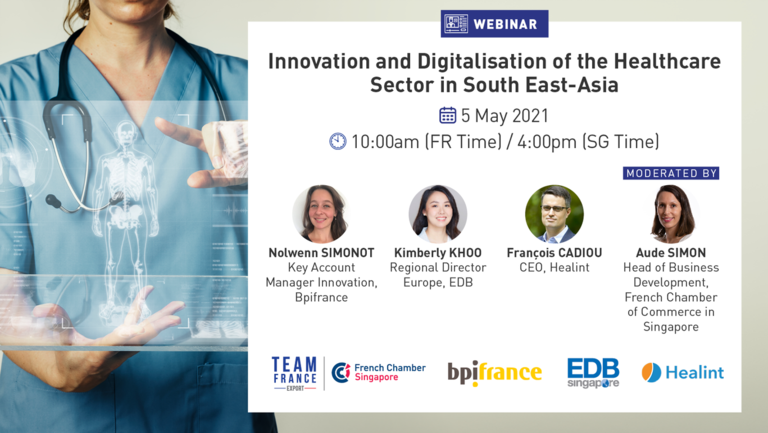 Southeast Asia is a world heavyweight (650 millions inhabitants and 5th eco-block with 7%-8% world trade), with bright growth perspectives despite current crisis. Healthcare has indeed become a top priority for governments in ASEAN.
While Covid-19 has disrupted life as we know it, it has underscored the need for innovative, responsive healthcare systems, presenting many opportunities for companies in SEA's health industry, i.e. digital health and high technology, AI, blockchain (data), 3D printing, analytics solutions, etc.
During this webinar co-organised by the Economic Development Board (EDB), our speakers Nolwenn SIMONOT, Key Account Manager Innovation, Bpifrance discussed the Singapore-France Joint Innovation Call in the healthcare sector; Kimberly KHOO, Regional Director Europe, EDB shared how Southeast Asia and Singapore's innovative healthcare landscape can better respond to the disruptive challenges of the sector; and François CADIOU, CEO Healint, shared with us his experience and vision of the Singapore and regional ecosystems.
Thank you to all our speakers and attendees. Do watch our replay below: