Webinar • Event report • Webinar
WEBINAR: Relief from Financial Distress in 2020: Some Options for Businesses, Directors & Guarantors in the face of COVID-19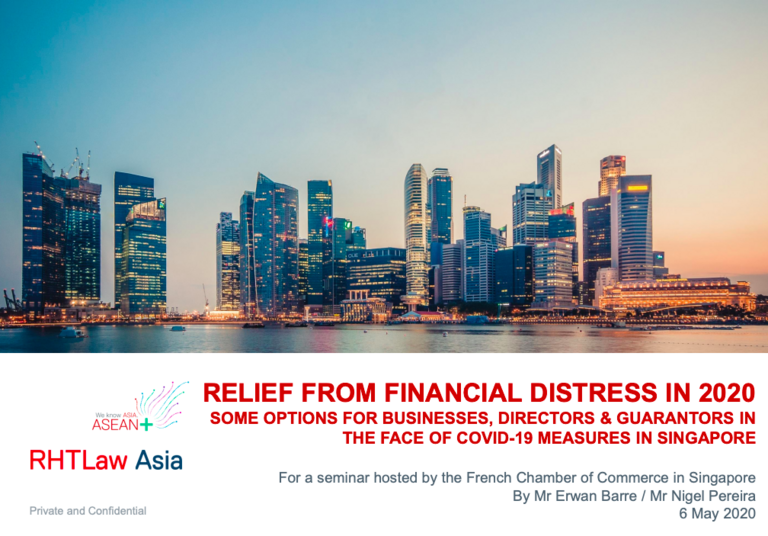 Nigel Pereira and Erwan Barre, Partners at RHTLaw Asia, discuss COVID-19 financial options under a legal framework.
As the recent measures announced on 21 April 2020 are implemented, keeping afloat in deepening waters is proving to be a greater challenge.
The legal rights of contracting parties vary to different extents, reflective of risk allocations in a world without COVID-19. This has now changed. Businesses have to adjust priorities. As the effort is made to swim to shore, how will we stay afloat and who will we bring with us?
During the webinar, Nigel Pereira and Erwan Barre, Partners at RHTLaw Asia covered the following:
Gave an introduction to the relief mechanisms offered under the COVID-19 (Temporary Measures) Act and the regulations which were recently gazetted on 20 April 2020
Discussed the types of obligations which may be suspended during the relief period (i.e. between 20 April 2020 and 19 October 2020) and the types of obligations which are enforceable outside the relief provisions
Touched on risks which our counterparts are facing and the options available in relationships with debtors and creditors
Discussed what can be done today to prepare for the months after COVID-19
Thank you Nigel, Erwan and our participants for taking part in this webinar.
Access the presentation (Only for members)