Webinar • Event report • Webinar
WEBINAR: Workspace Optimization in the Post-Coronavirus Era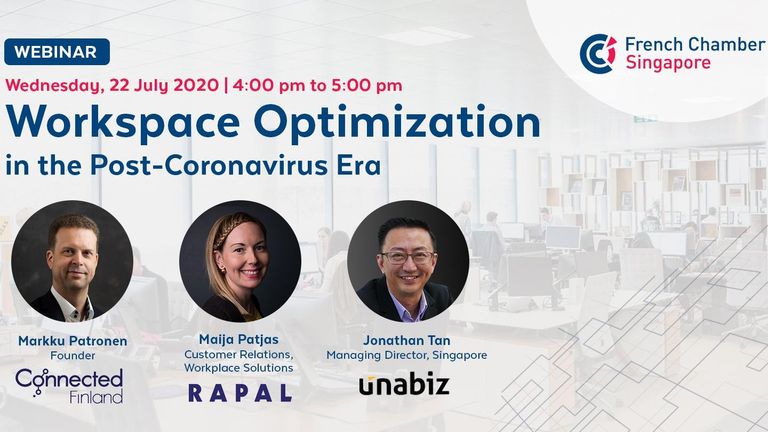 As companies transition back to business in the post-coronavirus era, there is - more than ever - an opportunity to relook the way they work.
Remote working trends and high real estate prices are changing the way employers, real-estate services providers, and landlords think about their office. The employment of workspace optimization solution in the office has proven to be a great solution for companies who wish to reduce their real-estate expenses, repurpose the office, or even generate a new source of revenue by renting out the unused space.
With the help of real-time occupancy data, companies can design a better employee experience by integrating these data with resource booking system and even HVAC system to regulate the environment settings (such as CO2 which has correlations to airborne transmissions) of their workspace, with the aim of improving comfort and productivity of employees.
Singapore-based massive IoT enabler UnaBiz, and Finland-based space utilisation expert RAPAL held an engaging webinar about digital solutions for facilities in general, as well as discussed companies who have implemented the smart office solution and successfully optimised and transformed their workspace.
Thank you to our speakers, Jonathan Tan, Managing Director, UnaBiz Singapore, Markku Patronen, Founder at Connected Finland Oy and Maija Patjas, Customer Relations, Workplace Solutions, Rapal for this enriching webinar!
Access the speaker's presentation (Only for members)