Event report
Supply Chain & Logistic Symposium 2021: For a more sustainable supply chain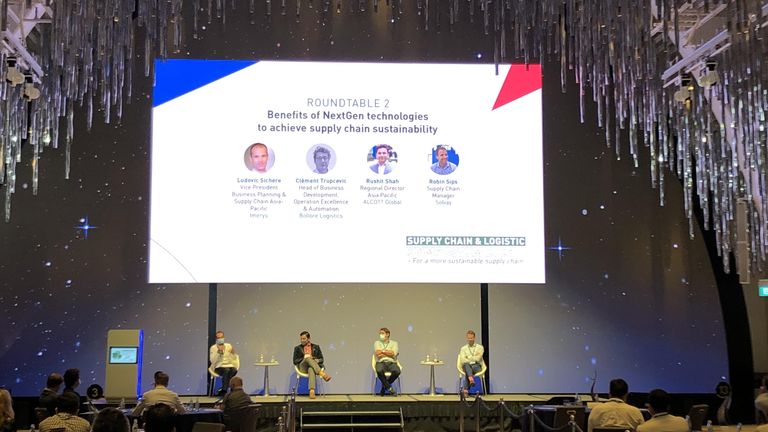 Leading global corporations discuss how innovation is improving sustainability experience across supply chain operations
This year's Supply Chain & Logistics Symposium, held at the JW Marriott Hotel Singapore South Beach, brought together a diverse panel of speakers to discuss how their companies are driving sustainable practices across the supply chain for competitiveness, and the benefits of NextGen technologies to achieve supply chain sustainability.
Thank you Ludovic Sichere, Supply Chain Committee Co-President for the key summary points:
At least in warehouses, automation may not be synonymous with sustainability (and even ROI). But 70% of carbon emissions relate to the building the warehouse itself therefore choosing sustainable materials, locations have a big impact.
Just-In-Time is a word from the past
Key areas to focus on for a greener supply chain:
First, sharing of warehouses, containers, vessels, transportation modes across players would have one the biggest positive impacts on a greener supply Chain. But players are not ready for it yet. Unless there is a push from public authorities cross countries, it is almost impossible. Could blockchain be a solution on the long term?
The S&OP is the 2nd most efficient way to reduce Supply Chain's carbon footprint. It is probably the most promising area. It will allow optimised loading of containers / trucks / vessels / trains, use of the most direct routes, reduction of inventories
Reverse Supply chain to allow a circular economy.
Digitalisation of all documentation to avoid physical transportation of these documents and delays in transportation
Packaging should be looked at (and paper versus plastic is not an easy comparison) and a supply chain around bulk and pick up at relay should be prioritized
Packaging: minerals in paper, plastics contribute to their ability to be recycled (can be used indefinitely)
Lighter equipment greatly help to reduce the energy utilized (but it required advanced plastics and / or minerals)
Is 0 carbon emission really possible in Supply Chain? If not, initiatives to offset the emissions should be considered (e.g. reforestation)
Other information:
- Covid has shattered the possibility to use AI, statistical analysis for Sales Forecast and Supply Response. Historical S&OP tools are not good enough. There is a need to use historical data but also short-term Sales forecast and Supply response
Thank you to our speakers:
Gillian Sim, EAJ Transport Director at Schneider Electric
Robin Sips, Supply Chain Manager at Solvay
Fabien Tertois, Head of Innovation at Bollore Logistics Singapore
Ludovic Sichere, Vice President Business Planning & Supply Chain Asia-Pacific at Imerys
Rushit Shah, Regional Director Asia Pacific at ALCOTT Global
Thomas Vermersch, Sales Director Asia and Global Head FMCG Customers at FM Logistic
Eric Grégoire, Chief Executive Officer of Goodpack IBC Pte Ltd
Clément Trupcevic, Head of Business Development, Operation Excellence & Automation at Bollore Logistics
Last but not least, thank you to our kind event sponsor Bollore Logistics.
If you are in the Supply Chain industry, do check out our Supply Chain Committee : https://bit.ly/3B1aKEz . For more information, please contact Lydia Fulton
Access the speaker's presentation (Only for members)